Florida Governor Ties Spike in Coronavirus Cases to Farm Labor Camps
Florida Governor Ron DeSantis denied the state is seeing a widespread of a new coronavirus, instead largely pegging it to "hot spots" such as farm labor camps and "high-risk environments."
On Tuesday, Florida officials reported 2,472 cases of a new coronavirus, the second-largest increase in cases over the past 30 days. Local health officials and public health experts are concerned the spike indicates reopening measures are fostering the spread of the virus, but DeSantis isn't entertaining the idea of closing back down.
DeSantis attributed the statewide increase in new cases to a rise in infections in areas where people live and work in close quarters. Two months ago, "high-risk environment" testing was largely confined to long-term care facilities. Now, it also includes prisons, factories and labor farms.
Out of 100 workers on a watermelon farm in Alachua County, 90 tested positive and nearly all of them were asymptomatic, according to DeSantis. In Martin County, where the positivity rate is about 10 percent, the governor said migrant and farm workers are driving the outbreak. Of the 118 migrant and farm workers who were tested at a mobile lab, 54 were positive.
"They're living in close confines a lot of people together for extended periods of time, and that provides the good venue for the virus to transmit," DeSantis said.
The government deemed farmworkers essential, as they play a role in maintaining the nation's food supply. Some farms rebuilt workers' housing to facilitate separation between laborers, according to Politico, but farms in nearly every region saw a spike in cases.
Nearly 500 farmworkers in the Yakima Valley of Washington have gotten sick during the pandemic, Politico reported, and a North Carolina farm temporarily closed after workers tested positive. In Immokalee, an agricultural community in Florida, officials recorded more than 1,100 cases.
"The tomato harvest is wrapping up, and we are hitting an important moment as these communities are starting to clear out. The virus will continue spreading, traveling up the coast," Nova Friedman, an administrator for Alliance for Fair Food, which advocates for farmworkers, told The Washington Post.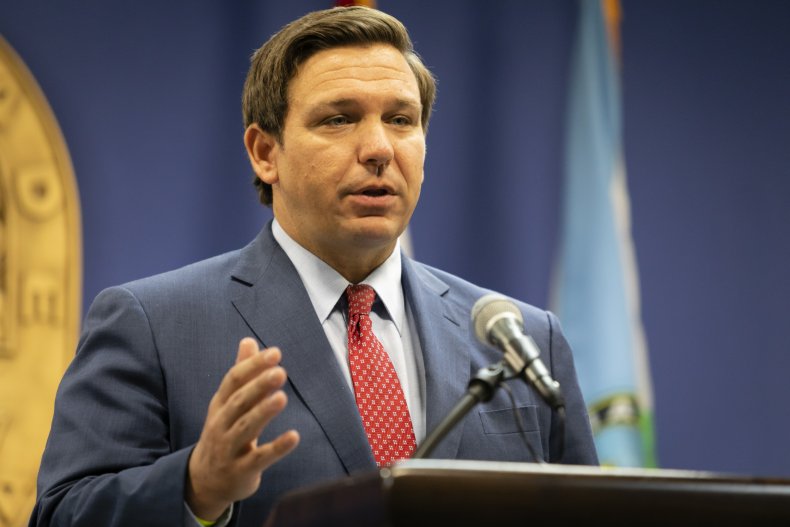 Florida Department of Agriculture and Consumer Services spokesman Franco Ripple said DeSantis was "mistaken" that agriculture was a primary driver of COVID-19 in Florida. Ripple said the "vast majority" of farmworkers left weeks ago because harvests ended.
"Many areas where cases are spiking are in non-agricultural counties, such as Broward, Duval and Hillsborough, which have seen their highest positive case days in over a month," Ripple said.
Helen Ferre, DeSantis' communications director, told Newsweek it was "surprising" to learn that Agriculture Commissioner Nikki Fried was "unaware" of what was occuring in the agriculture community. Ferre contradicted the claim that harvests ended, as picking season for avocado and tropical fruits is beginning.
"Governor DeSantis is ensuring that everything is being done to ensure that in Florida, testing and contact tracing is available for the health and well-being of Sunshine State residents and visitors," Ferre said.
Along with farm labor camps, DeSantis said jails are also driving the increase in cases. Another segment of the population that lives in close quarters, health officials raised concerns about inmates being at risk of contracting the virus. In Lake County, 160 staff members and inmates were tested and 100 were positive.
An increase in testing can account for a rise in cases because you increase the number of potential positives. Instead of considering raw case numbers, experts tend to put more weight on trends in the percent of positive tests.
Florida's experiencing an increase in the rate of positive tests, which has risen to 4.9 percent from the 3 percent range. DeSantis attributed this, in part, to an increase in testing of asymptomatic people. Two months ago, widespread testing of migrant workers and farmers wasn't going on and since reopening, business ideas may be encouraging employees to get tested regardless of weather they show symptoms.
With an increase in asymptomatic people being tested, who may not have been months earlier, DeSantis said it could account for the positive rate increase.
The governor urged people to mitigate their level of concern by highlighting the 43 percent decrease in intensive care unit hospitalizations and 56 percent decrease in people needing ventilators over the past 60 days.
"We are not shutting down, we are going to go forward and we are going to continue to protect the most vulnerable," DeSantis said.