Florida Governor Warns Residents to Not Be Fooled by Isaias' Downgrade as Storm Approaches State's Eastern Coast
Florida Governor Ron DeSantis told state residents not to underestimate the impacts of storm Isaias as it approached land on Saturday evening.
Forecasters previously classified Isaias a Category 1 hurricane, but downgraded the designation to tropical storm ahead of its anticipated arrival along Florida's eastern coast. Isaias traveled northwest toward Florida at 12 mph Saturday after initially making landfall in Puerto Rico, the Dominican Republic and Bahamas.
"We'll continue to monitor this but don't be fooled by the downgrade," DeSantis said during a news conference late Saturday. "We do think it will be upgraded back to a hurricane later on this evening."
Isaias was still considered a tropical storm on Sunday morning, according to the National Hurricane Center's latest advisory. The center's update described tropical storm conditions "close to the east coast of Florida." As DeSantis noted during the news conference, dry air and wind sheet weakened Isaias' strength as it charted its path from the northwest Bahamas. An official hurricane warning for the northwest Bahamas area was lifted by early Sunday.
A storm surge watch remained in effect for the majority of Florida's east coast, from Jupiter Inlet to Ponte Vedra Beach, at 8:00 a.m. ET on Sunday. The National Hurricane Center issues storm surge watches when "there is a possibility of life-threading inundation" due to rising water levels from the coastline over the next 48 hours.
DeSantis signed an executive order on Friday to declare a state of emergency in many of Florida's east coast counties ahead of the storm's landfall. Sixteen additional counties—Palm Beach, Monroe, Volusia, Osceola, Seminole, Brevard, Indian River, Martin, St. Lucie, Broward, Nassau, St. Johns, Orange, Okeechobee, Glades and Flagler—issued their own emergency declarations as well.
The governor also requested a federal disaster declaration from President Donald Trump on Saturday, which would provide federal assistance and reimbursement to counties preparing shelters and other relief initiatives. Trump approved the request on Saturday afternoon.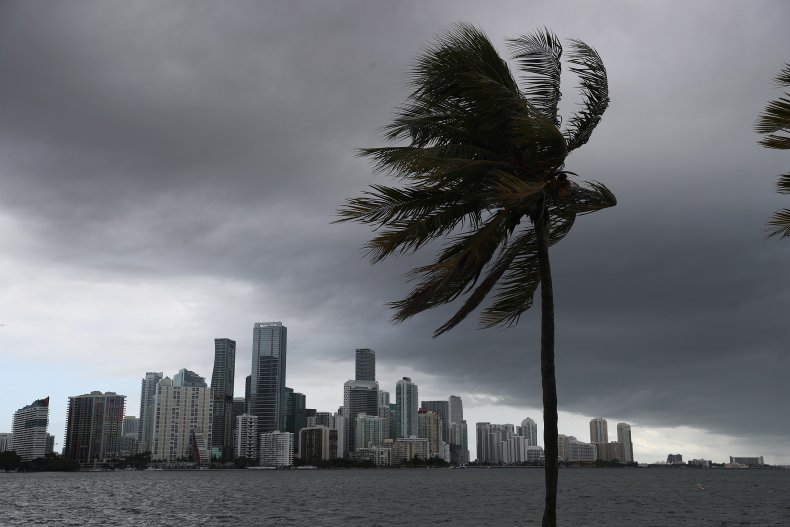 "This stuff is all very much in flux," DeSantis said during an earlier news conference Saturday afternoon. "And even if the eye of the storm stays off the coast, there, of course, is going to be impacts when you're talking about a hurricane, or tropical storm force winds. So, folks need to be prepared for that."
The governor urged residents of Florida's east coast counties to remain vigilant about possible changes to Isaias' strength and follow local evacuation instructions if those become relevant. The state has distributed shelter kits with personal protective equipment for up to 400 people to counties located in the storm's path and established "non-congregate" shelter options for any evacuees with COVID-19.
Newsweek reached out to DeSantis' office for further comment, but did not receive a reply in time for publication.