Florida Man Dies Saving His Dog From Drowning in the Gulf of Mexico
A Florida man was pronounced dead on Wednesday after being swept away in rough currents while attempting to rescue his dog from drowning, police say.
Ted Davis, 66, of Webster, entered the water on the Chassahowitzka River after the dog jumped from an airboat he was on with his wife Minnie, investigators said. The strong current in the area—the inland waters of the Gulf of Mexico—is believed to have pulled him underwater.
Minnie Davis called 911 to ask for urgent help after her husband leaped into the water to save the family dog but never resurfaced. Emergency services confirmed deputies were dispatched to Zebrafinch Avenue in northwest Hernando County shortly before 11:30 a.m.
Neither the husband or pet dog had been wearing floatation aids or life jackets at the time, the Hernando County Sheriff's Office said in a media release posted to Facebook yesterday.
The husband's body was spotted close to Bird Island at 12:22 p.m by an officer with the Fish and Wildlife Commission (FWC), who said it appeared he had passed away. The victim's body was removed and transported to the Bayport Boat Ramp, where he was pronounced dead.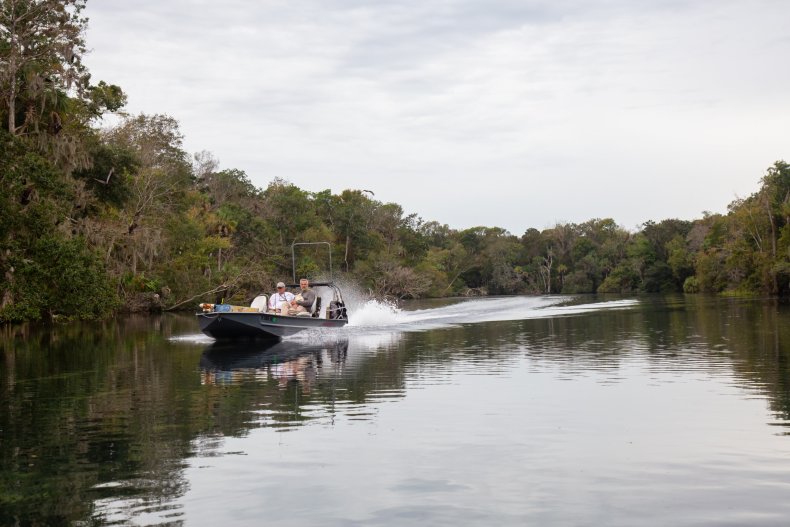 Local police said in a brief statement: "The investigation is ongoing as detectives await results of the autopsy on Mr. Davis. There is no additional information available at this time."
WFLA reported the dog is believed to have survived the incident.
"We believe the husband was able to save the dog and then the husband did not resurface," Denise Moloney of the Hernando County Sheriff's Office told the media outlet.
Moloney has urged anyone on the river to wear safety gear, saying: "I know that they have life jackets for dogs and I know that they have them for people too, so it's probably not a bad idea to put one on if you think you might not be able to swim if something were to happen."
Local residents told WFLA that currents are known to be strong in the area. During an on-air news segment detailing the tragic death a "no swimming" sign was visible on a wooden pier.
The sheriff's office marine unit, United States Coast Guard (USCG), and Hernando County Fire Rescue were also dispatched to the scene to assist in the search for the victim, officials noted.
In April, a New Hampshire man died after unsuccessfully trying to save his pet dog when it fell through a patch of thin ice. Both drowned at the scene, police said. In February last year, a 67-year-old man died in California after attempting to save his dog that became trapped on a cliff. The man slipped and fell up to 500 feet, ABC7 reported at the time. The victim's dog survived the incident, according to CBS News.