Florida Gun Shop Owner Declares His Store a 'Muslim-Free Zone'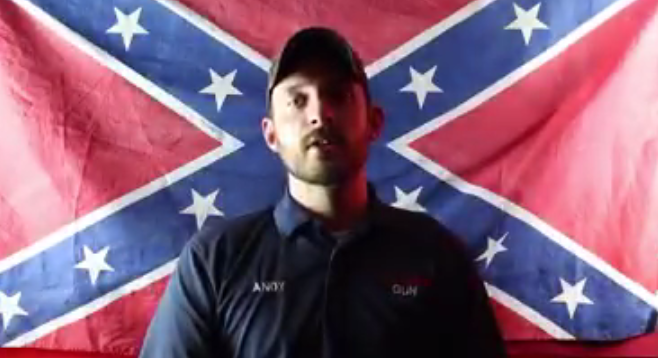 A Florida gun shop owner has banned Muslims from entering his store.
Andy Hallinan, owner of Florida Gun Supply in Inverness, declared his business a "Muslim-free zone" in an online video. He says the move is his response to the fatal shooting last week in Chattanooga, Tennessee, where Muhammad Youssef Abdulazeez, 24, a Kuwait-born U.S. citizen, killed four U.S. Marines and a U.S. Navy Petty Officer during a shooting rampage. Abdulazeez also died.
Authorities are investigating the suspect's 2014 trip to the Middle East to determine if he had contact with any extremists. He reportedly blogged about Islamic subjects, and his father was once investigated for terrorist ties. Abdulazeez has not been linked to any terrorist organization.
In the five-minute video posted Saturday on the Internet, Hallinan stands in front of a Confederate flag, urging "patriots" not to be influenced by U.S. leaders.
"The jihadists said they would do it and they have. They said they live among us and they do. We must be prepared, vigilant and equipped to handle any situation that might come our way," he says, adding that Islam is not "just another religion." He moves on to criticize the Obama administration for "dividing the country" between the North and the South, and white people and black people.
Hallinan was not immediately available for comment. An employee named Nick who answered the store phone told Newsweek he "completely agrees" with Hallinan's views, and commended him for speaking out against "political correctness." He declined to comment further.
Hallinan claims racism has risen since President Barack Obama took office. U.S. leaders, the business owner says, make Americans believe the Confederate flag symbolizes white supremacy, hatred and intolerance. The flag was taken down outside of the South Carolina State House earlier this month, and major U.S. retailers pulled merchandise with the flag from their shelves.
"Our leaders are telling you that Islam is a peaceful religion, full of tolerance and love and hope. Don't believe their lies," he says. "We're in battle, patriots, but not only with Islamic extremism. We're also in battle against extreme political correctness that threatens our lives."
The video had reached more than 47,000 views by Tuesday at noon.
The Council on American-Islamic Relations (CAIR), the nation's largest Muslim civil rights and advocacy organization, has called on the U.S. Department of Justice to investigate possible federal civil rights violations by Hallinan. Systematically banning Muslims from such businesses, the group says, is a violation of federal laws prohibiting racial and religious discrimination in public accommodations.
"These bigoted declarations are no different than 'whites only' signs posted in businesses during a period of our nation's history that we had hoped was over," said Ibrahim Hooper, CAIR national communications director.
In addition to banning Muslims from his store, Hallinan says he also is offering both free concealed-carry classes and public admittance to the shooting range, effective immediately.
"Take this opportunity to get armed, get trained and carry daily," he says. "I have a moral and legal responsibility to ensure the safety of all patriots in my community."