Homeless Florida Man Carrying Huge Rattlesnake Told Police He Is an 'Agent of God'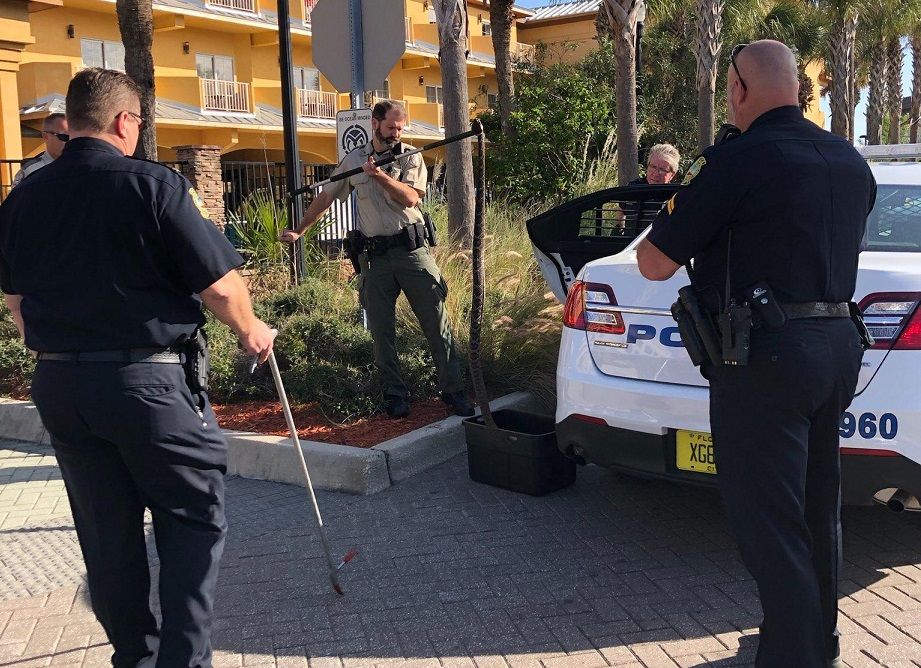 A homeless man who was spotted walking around Florida holding a large venomous snake has claimed he was acting as an "agent of God," according to reports.
The Jacksonville Beach Police Department said they received several calls about a man walking down the street holding a rattlesnake measuring several feet in length.
When officers arrived at the scene, they told the man to put the snake into the back of their vehicle, reports First Coast News.
Officials from the Florida Fish and Wildlife Conservation Commission (FWC) were then called to safely remove the animal, reported to be a diamondback rattlesnake.
"He apparently, sometime this morning, found the snake and was walking around our downtown area with it, prompting several calls from concerned citizens," Sergeant Larry Smith, of the Jacksonville Beach Police Department, told WOKV.
Smith said that it appears that the man was doing a "show and tell" with the snake and that he knew how to handle them properly. The man was not believed to have been injured during the incident.
"He says that he found it and God compelled him to keep him safe from traffic," Smith added.
The incident was also confirmed in a tweet by the Jacksonville Beach Police Department.
"Well, meanwhile in Jacksonville Beach this morning....6, 7, or 8 feet? I'm not getting the tape measure out. Thank you to the Florida Fish and Wildlife Commission for relocating our guest," the department wrote.
The man seen holding the rattlesnake was not arrested and will face no charges, but police and the FWC are reminding people that is it dangerous and against the law to handle wild venomous animals, reports Click Orlando.
The FWC confirmed that the snake was later released into a secluded wooded area in Duval County.
The diamondback rattlesnake is the largest and heaviest venomous snake in North America, with some growing up to 8 feet in length.
The animal, also known as an eastern diamondback rattlesnake and the Florida diamond-back, among several other names, predominately lives in the south eastern area of the U.S, including Florida, the coastal parts of North Carolina and southern Mississippi.
According to the Smithsonian's National Zoo and Conservation Biology Institute, the large snake weighs on average 10 pounds. Its venomous bite can be fatal to humans if not treated.
This article been amended to correct the average weight of the diamondback rattlesnake.