Florida Hospitals Request 100 Nurses, May Need 100 More Next Week for COVID-19
Florida's Republican Governor Ron DeSantis has promised to acquire 100 nurses to help the Jackson Health System, the name of Miami-Dade County's hospital network, because of the county's recent surge in coronavirus cases. If cases continue to rise, a medical union leader predicts that hospitals will need 100 more nurses the following week.
A spokesperson for Jackson Health CEO Carlos Migoya told The Miami Herald that DeSantis said 75 of the nurses would be ready to immediately serve in hospital intensive care units (ICU) where COVID-19 patients with the worst symptoms typically receive treatment.
Among other tasks, the governor said the new nurses will help isolate patients who visit county hospitals for non-coronavirus-related reasons but end up testing positive for coronavirus. Approximately 30 to 40 percent of visiting patients fit this description, the Jackson Health System reported.
Martha Baker, president of the labor union representing Jackson Health medical workers, told the publication that if the county's COVID-19 cases continue to increase, the hospitals will likely need more nurses beyond the ones promised by the governor.
"If we can't stop the peak, we'll need another 100 next week," Baker said. "The caregivers inside are stressed to the max.... If I take care of two ICU patients and somebody stops breathing or their heart stops and I need help, the charge nurse is available to help. Now charge nurses are getting patients, so there's nobody free to help in an emergency."
Miami-Dade County has reported over 2,000 newly confirmed coronavirus cases nearly every day for the last week. As of July 7, the county has reported a total of 51,057 cases and 1,057 related deaths, more than any of Florida's 66 other counties. Miami-Dade has more than double the number of cases and deaths of Broward County, the Florida county with the second-highest number of cases.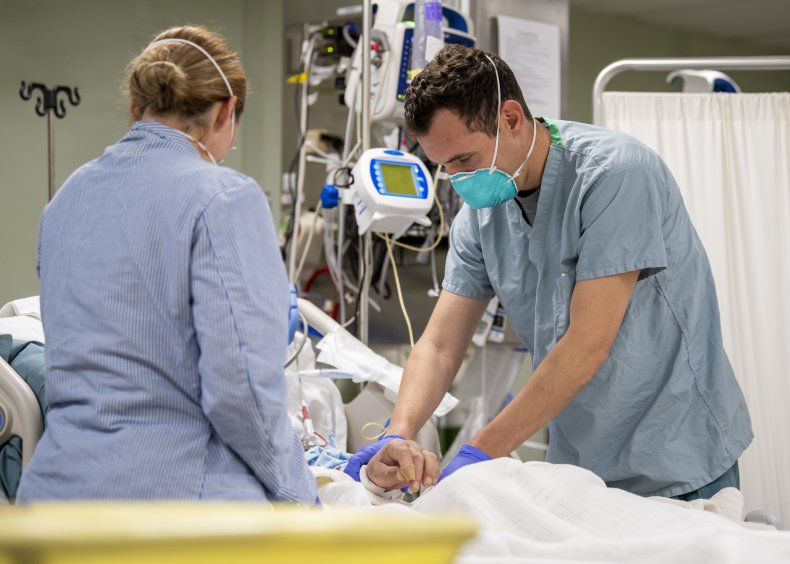 Baker said that Miami-Dade nurses are working longer shifts more often with less time off each week, potentially burning them out and making it harder for them to adequately respond to patients as more coronavirus patients enter the hospital system each day.
Matt Pinzur, Jackson's vice president and chief marketing officer, said that the newly requested nurses will be added to 80 nurses already hired by the hospital network over the last two weeks.
But new hires can take a while to onboard because of background checks and the need to provide notice to former employers. New hires also require training on the protocols and computer systems used in different hospitals.
As of July 7, the state ranks third among U.S. states with the highest overall number of confirmed cases, trailing just behind New York and California. Overall, Florida has had over 214,000 confirmed COVID-19 cases and 3,840 related deaths since the start of the epidemic.