Florida Hotel Guests Kicked Out, Staff Fired Hours After Business Sold
A Florida hotel kicked out nearly 100 guests and fired staff just hours after it learned the business had been sold, forcing a number of disgruntled customers onto the street.
Champions World Resort in Kissimmee, Florida, abruptly shut down on Thursday after it learned that it had been sold to new owners.
The news forced management to inform guests that they had to vacate the property that day, with many being told they had to leave the hotel by 4 p.m, WOFL Fox 35 Orlando reported.
Florida Representative Darren Soto, who represents Kissimmee in the state's 9th Congressional District, told Newsweek on Friday that the issue should be investigated.
"This is a clear deceptive and unfair trade practice that should be investigated by the Florida attorney general," Soto said.
A guest of the hotel, Andrea Skhy, said that a man called her, saying he was the general manager and that he'd just been informed that "the hotel had been sold and that all staff and guests needed to vacate the property today," according to Fox 35.
Skhy added that they were told by the general manager that "third party agencies" would be issuing refunds for the guests.
A journalist for Fox 35 reported from the scene, witnessing guests vacate the property, and observing a person believed to be hotel staff checking to make sure rooms were empty.
According to Fox 35, the new owners of the hotel were planning to shut the power off by midnight, effectively forcing anyone that was hoping to stay for one more day onto the street.
On Thursday, the hotel posted a message confirming it had been sold, but hours later, the whole website had shut down, WESH 2 reported. By Friday, the website was still not working.
Newsweek tried to contact Champions Resort World for comment or verify who the new owners are.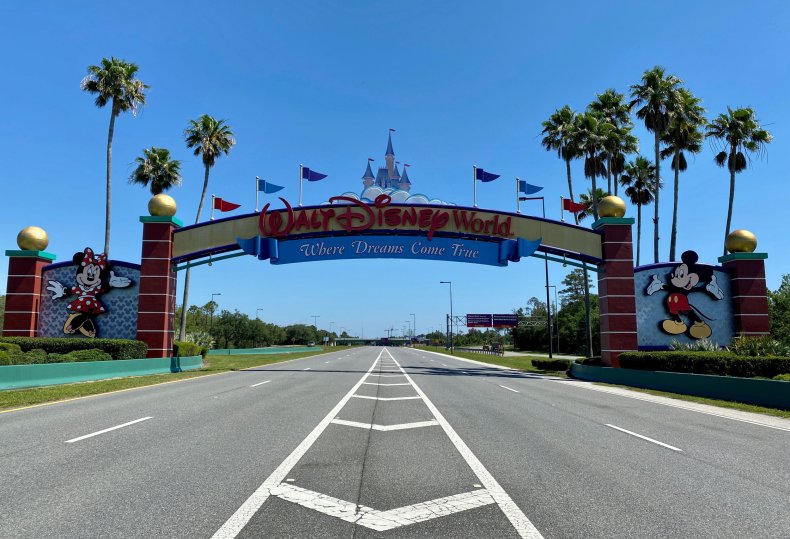 The abrupt closure left many guests scrambling to find a new place to stay. Many told the local news outlets that they had already paid for their entire visit at the hotel, and feared losing out on the money.
"We don't have anywhere to go. Our flights are for the 7th and I've already paid and this is a big inconvenience," Victoria Oquendo, who was visiting from Rhode Island with 14 other family members, told Fox 35. "They didn't let us know. We booked it months ahead. We've been here already a week."
Oquendo added that having to wait for a refund would likely make finding a new place for her large family difficult.
"It's a lot of us so it is not like we can just book one room or two. And it's spring break, everything is super expensive," she said.
Oquendo also said that she was informed that all of the employees of the hotel had been fired.
"The manager said he's been working for 18 years in management and he's never heard of such a thing happening," Oquendo told WESH 2.
Guest Hector Soto expressed anger and frustration over the abrupt closure. Soto said he had booked his visit at the hotel three months ago, partly to celebrate his child's birthday.
"We're here and we have leave... last minute? They didn't give us no warning or nothing," he said. "I'm not only broken, I'm upset, angry, I'm mad!" he told Fox 35.
Other guests who were ready to begin their stay at the hotel on Thursday arrived at the check-in counter, only to learn that the business had shut down, without any prior warning.
"They didn't give notice or anything. That's not right," Oquendo told WESH 2.