Florida ICU at 200 Percent Capacity as COVID Hospitalizations Spiral Out of Control
A Florida hospital's intensive care unit is at more than 200 percent occupancy as COVID-19 cases and hospitalizations continue to soar in the state.
Ascension St Vincent's Southside Hospital in Jacksonville is treating 94 patients with coronavirus and its ICU is at 217 percent occupancy, according to a dataset released weekly by the Department of Health and Human Services (HHS).
Percentages above 100 are reported when hospitals have patients beyond their usual limits.
The hospital has 309 beds, according to its website, but it's not clear how many are reserved for intensive care patients. Another Ascension hospital in Jacksonville, St Vincent's Riverside, has an ICU occupancy rate at 154 percent.
Ascension, which describes itself as a faith-based healthcare organization, has been contacted for comment.
Experts told the The New York Times, which has been mapping occupancy rates, that the levels may have changed since they were reported. Furthermore, some hospitals have added additional surge capacity as they got close to exceeding capacity for coronavirus patients, which may not be reflected in the baseline capacity figures.
The HHS cautions that high occupancy rates should not discourage sick people from seeking care. "Hospitals have protocols in place to keep patients safe from exposure and to ensure all patients are prioritized for care," it noted.
Nevertheless, the figures reflect the dire situation in Florida, which is dealing with a devastating surge in cases, hospitalizations and deaths driven by the highly contagious Delta variant of the virus.
More than 91 percent of intensive care hospital beds were occupied in Florida as of Sunday, according to the latest HHS data. COVID-19 patients occupy 50.1 percent of the state's ICU beds.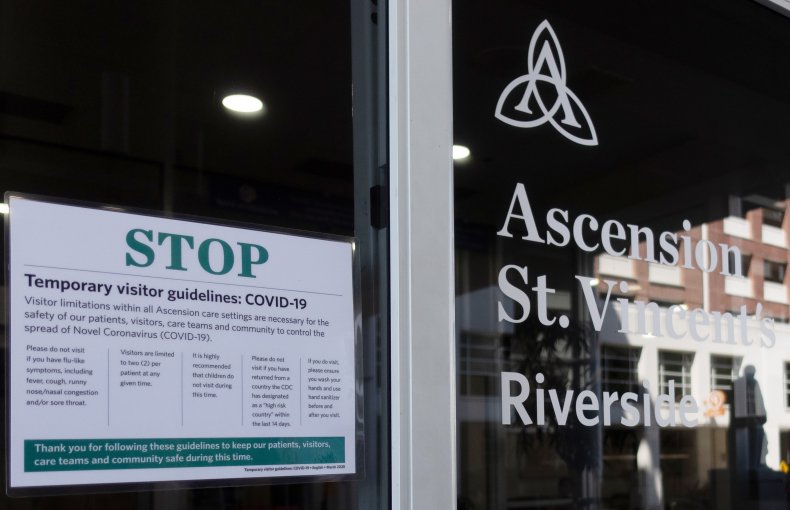 But the number of usable ICU beds can be limited by how many nursing staff members are available to tend to patients needing intensive care, according to The Times.
"I think the important thing about this current phase of the pandemic is it's not so much the hospital capacity shortage that's the issue," Thomas Tsai, an assistant professor of health policy at Harvard University, told the newspaper. "It's really a shortage of personnel and healthcare workers."
Florida has seen COVID-19 cases and hospitalizations soar recently.
According to data released from the CDC on Sunday, the state reported 151,634 cases in the past seven days—far more than both Texas (91,940) and California (57,089). The state is also leading the nation in COVID deaths, averaging more than 150 a day in the past week.
Hospitals in Florida are also dealing with a surge in young people being hospitalized with COVID-19 as millions remain unvaccinated. Last week, Newsweek reported that the state is experiencing the highest rate of children hospitalized with COVID-19 in the U.S..
Only 50 percent of people in Florida are fully vaccinated against COVID-19. More than 93 percent of Floridians aged 65 and up have gotten at least one dose of a coronavirus vaccine, compared to 72 percent of adults aged under 65.