Fact Check: Is Chinese Restaurant Offering 95 Percent Off to Customers With Vaccine Card?
Many have hit out in response to Florida's latest move to issue fines to businesses requiring vaccine passports for customers, but did a Chinese restaurant go as far as offering a 95% discount to those showing proof they have been vaccinated?
The Claim
On Thursday, September 2, an Imgur user shared an image of what was purported to be a sign outside of a Florida Chinese restaurant. The sign offered vaccinated customers a 95% discount, while others would have to pay $150 —deterring the unvaccinated from entering the restaurant.
Belonging to an eatery supposedly named Phoenix Koi, the sign read: "Lunch: $150. Get 95% off with vacc. Card. F*** DESANTIS."
In less than a day, the image gained over 100,000 views on the site and was shared with the title: "Go Florida!"
Imgur user "Heavenissize17socks" shared the post, writing: "Resistance to tyranny is obedience to God," along with a link to an Orlando Sentinel article.
The article reported on Florida's latest ruling from the state's health department that businesses requiring proof of vaccinations will receive fines of $5,000.
The rule states that the agency will fine: "Any business entity, governmental entity or educational institution" that requires a proof of vaccination.
Florida's Republican Gov. Ron DeSantis signed a bill earlier on in the year that banned vaccine passports. DeSantis described the idea of vaccine passports at the time as "completely unacceptable for either the government or the private sector to impose upon you the requirement that you show proof of vaccine to just simply be able to participate in normal society."
A spokesperson for DeSantis said on Wednesday: "Promises made, promises kept."
The image of an alleged Chinese restaurant's response to the ruling was shared on Reddit shortly after, where it gained over 52,000 votes in 12 hours at the time of publication.
The Facts
The image of the signage outside the Chinese restaurant was generated using an online site that allows users to type their own message onto a blank board. Users are able to choose the name of the restaurant.
Atom.smasher.org offers various image and text generators, including a "make your own Chinese restaurant sign."
Memes in this form have long existed online, with popular ones taking on restaurant names including "Golden Dragon" and "Wicked Wok," but always including the same background image.
The Ruling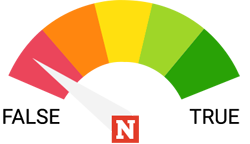 False.
FACT CHECK BY NEWSWEEK
A Florida Chinese restaurant named Phoenix Koi didn't offer a 95% discount on food to vaccinated diners, or hike up prices to $150 for everyone else as a way to discourage the unvaccinated.
Instead, the image was created using an online generator. Although the meme may have been created in a lighthearted manner, many online believed it.