Florida Inmates to Make Protective Masks for Prison Workers, Fellow Inmates to Thwart Coronavirus
The Florida Department of Corrections (FDC) announced Saturday that all of its staff will be required to wear masks to help protect themselves from COVID-19, also known as coronavirus. The ones assigned to making those masks will be the same prisoners they oversee.
Florida has a prison population with a rising number of coronavirus cases, but the prison workers themselves will be the first to benefit from the protective masks. The prisoners will be the next in line to receive them across all of its 143 facilities.
"It's critical we take all precautions necessary to minimize the potential risk to the inmate population and staff charged with their care and custody," FDC Secretary Mark Inch said in a notice. "Due to already existing clothing manufacturing infrastructure, FDC and PRIDE are uniquely situated to respond quickly to the agency's initial high demand for cloth face coverings."
PRIDE Enterprises, Inc. is the Prison Rehabilitative Industries and Diversified Enterprises in the state, and they will also be making the masks, both groups using templates provided by the Centers for Disease Control.
Correctional officers, probation officers and staff in high-risk geographic areas will b the first to receive the masks, followed by facilities with large at-risk inmate populations.
The FDC sent a letter to the "families ad loved ones" of the 94,000 inmates in its system, telling them the prisoners will all eventually be issued masks.
"But over the next two weeks, we hope to have all our staff and your loved ones in cloth face coverings," the letter read, according to the Tampa Bay Times. "We have sufficient protective equipment for inmates displaying symptoms, and for those staff that work in direct contact with those in medical isolation."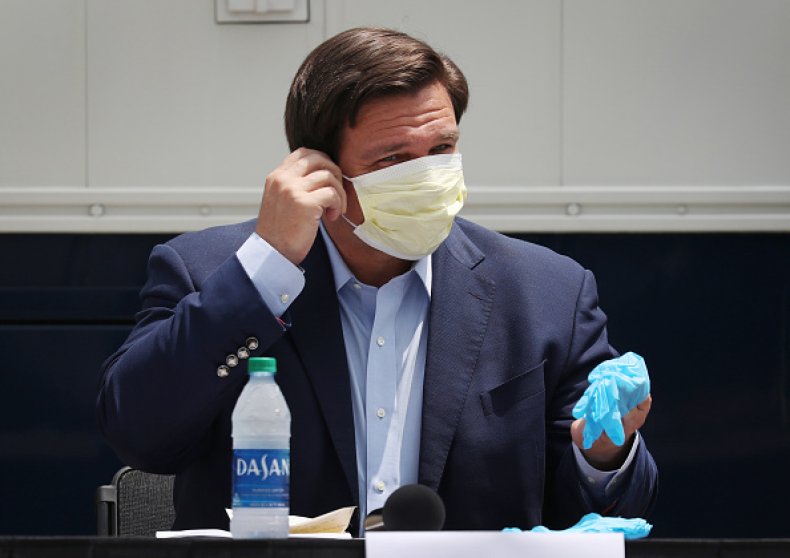 It will take time for the masks to begin finding their way into circulation, so prison workers were authorized to wear their own personal protective equipment, including masks. The report did not indicate whether or not the prisoners are authorized to do the same.
The coronavirus was first detected in Wuhan, China during late 2019, and by April 11, nearly 1.8 million people worldwide have tested positive for the virus, and there have been more than 108,000 deaths around the globe.
In the United States, there have been more than 530,000 cases—the most by any country. The U.S. has more than 20,500 deaths so far, which also leads all countries.
President Donald Trump said on March 29 he expects the number of cases and deaths in America to peak by April 12, and that the social distancing guidelines have been extended to April 30. Trump also said he expects a "full recovery" by June 1.