As coronavirus cases continue to increase in Florida, some intensive care units (ICU) at hospitals in the state are reporting no available beds in their units.
On Monday, Florida reported 6,336 new positive cases of the virus, bringing the overall total to 206,447 in the state. Florida Governor Ron DeSantis said during a Monday news conference that the rise in cases was because of higher degrees of testing, not because the virus was spreading.
"I think we've stabilized where we're at," DeSantis said.
Florida's lack of intensive care unit beds could have a negative impact on individuals with the coronavirus who need a high degree of medical care.
On Monday, AdventHealth Kissimmee showed no availability out of a total of 18 ICU beds. North Shore Medical Center in Miami-Dade County reported all 48 of its ICU beds were occupied. Two hospitals in Lee County in Southwest Florida showed zero capacity in their ICUs, a total of 29 beds.
Newsweek reached out to AdventHealth Kissimmee for comment.
Although ICU patients may be comprised of a mixture of patients who do and do not have COVID-19, some officials worry that the hospitalization rate for coronavirus will increase.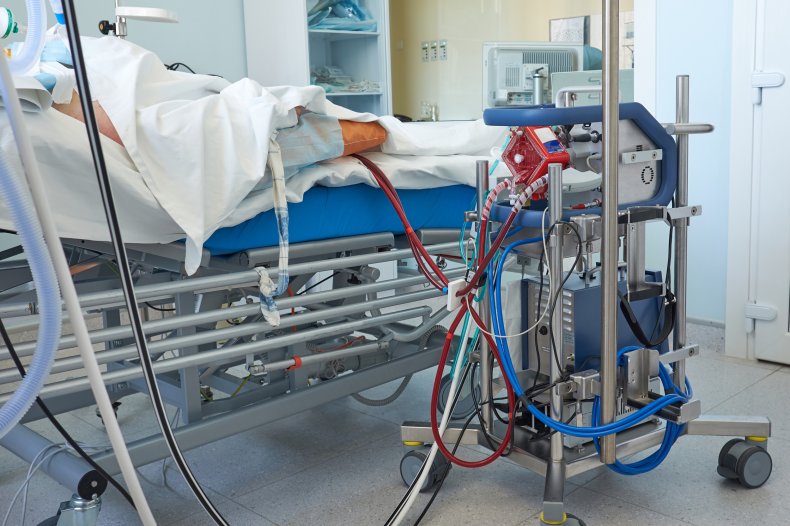 "We are seeing trends by the end of the month where our licensed beds could get filled up," Lee Health Chief Officer of Hospital Operations Scott Kashman told WINK on Friday. "When you see the overall numbers in the state of Florida rising, only that has an impact on what we see with the hospitalizations."
On Sunday, four hospitals in Pinellas County, Florida had no ICU beds available. "It is important to note, that while cases are increasing, we are not experiencing a surge in patients who require hospitalization due to COVID-19 but we remain prepared to take care of any patient in need of our services," read a Monday statement from AdventHeath West Florida Division.
Governor DeSantis said Monday that the coronavirus had impacted separate regions of Florida in different ways.
"It's not an even epidemic through the state," DeSantis said. "There is a lot of diversity here. Obviously the solutions are going to be tailored differently based on the facts at hand."
As a result of the surge in coronavirus cases, Florida Department of Business and Professional Regulation Secretary Halsey Beshears announced in June that bars across the state would be prohibited from allowing alcohol consumption on the premises. However, Florida Agriculture Commissioner Nikki Fried said in June that DeSantis' response to the virus was "simply not working."
"If the spike and record-breaking numbers aren't proof enough, his policies are simply not working and he's recklessly reopening Florida despite the data screaming for caution. Refusing to acknowledge the alarming patterns in cases, hospitalizations, and positivity is not only arrogant, but will cost lives, public health, and our economy," Fried said in a statement.
Jacksonville, Florida is expected to be the host city for the Republican National Convention in August. VyStar Veterans Memorial Arena, where the convention is slated to be held, holds a maximum of 15,000 individuals.