Florida, Iowa, South Dakota and Nebraska have shifted from daily to weekly reporting of coronavirus data as cases surge across the country, preventing communities from tracking outbreaks and deaths in real-time during a new phase of the pandemic.
The Florida Department of Health announced a scale back of their public data in early June, citing an increase in vaccinations and decrease in new cases. The state began to observe a spike in new cases just weeks later, driven by the highly virulent Delta variant.
Florida's weekly data, released on Fridays, still provides communities with the overall trends. Cases have continued to climb in the state that now accounts for 20 percent of the country's new COVID-19 cases, with its latest release showing 73,000 additional infections, nearly double the 45,000 reported in the previous week.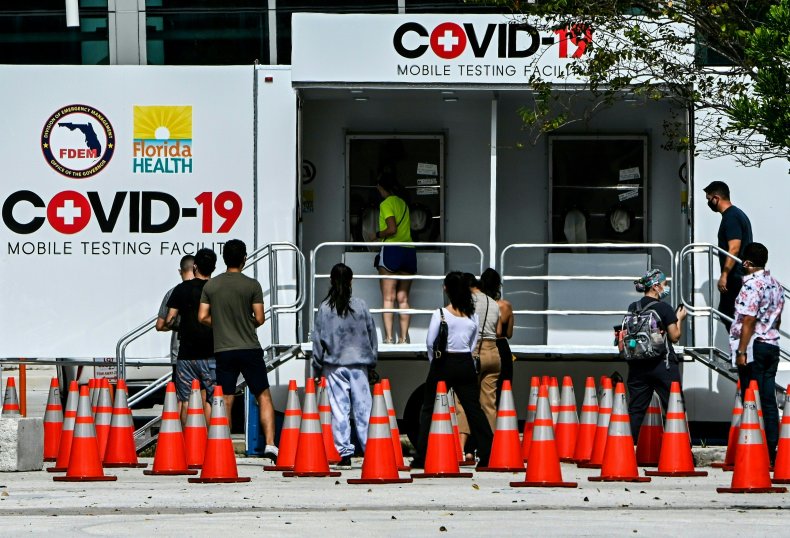 State Rep. Anna Eskamani, a Democrat, has urged Republican Governor Ron DeSantis to resume daily reporting of cases, deaths and hospitalizations. "There was absolutely no reason to eliminate the daily updates beyond an effort to pretend like there are no updates," she said, according to the Associated Press.
The Iowa Department of Public Health outlined the change from daily to weekly reporting in a memo to local public health officials in late June, citing a "transition to COVID-19 pandemic recovery." The shift occurred as case counts remained largely unchanged from figures reported in the early stages of the pandemic in 2020. But the state has also seen a spike in cases since the change, with new infections doubling this month compared to June.
Citing lower case counts and increasing vaccinations, the South Dakota Department of Health announced a switch to reporting cases weekly, from five-days a week, starting July 5. The state released its third weekly update Wednesday, with 198 new cases, up from 109 reported last week.
Nebraska retired its online dashboard, ceasing coronavirus case reporting in early July as it eliminated its remaining social distancing guidelines after Governor Pete Ricketts declared an end to the state's pandemic-related State of Emergency. The state launched a new website with weekly updates just two weeks later after the decision to stop providing updates was strongly criticized by health experts who were unable to track the virus' spread.
Proponents of the switch to weekly reporting say that it's practical to focus on the seven-day rolling average of new cases as figures can vary drastically from day to day due to test processing capacity.
While critics argue that Americans should be armed with the information necessary to closely track cases and trends in order to make decisions about attending gatherings and mask use.
Newsweek reached out to the Centers for Disease Control and Prevention for comment.