Officers Successfully Capture Escaped Kangaroo After an Epic Chase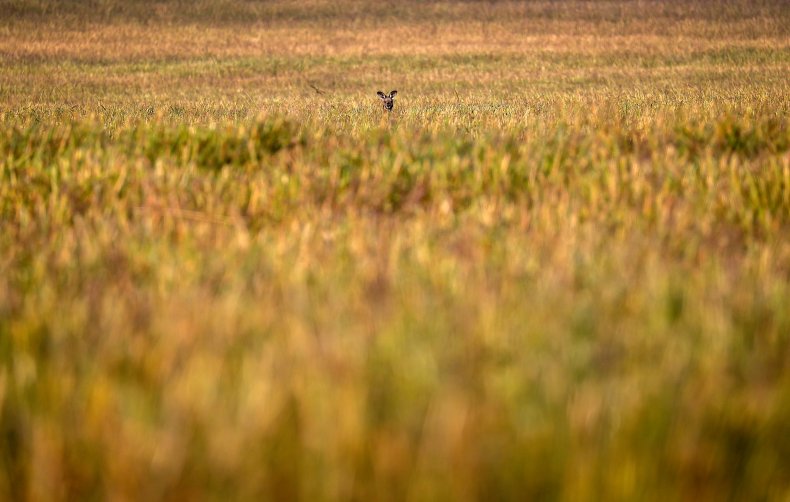 Officers in Florida found themselves tasked with apprehending an unlikely suspect on Thursday morning. Who exactly were they after? A kangaroo.
Authorities responded to calls about a kangaroo on the loose in Fort Lauderdale. A team of officers were able to safely capture the animal—although the lost kangaroo didn't make it too easy for the officers. Videos of its capture surfaced online depicting the officers struggling to keep the kangaroo still while trying to rescue it.
Officer Robert Norvis, who helped with the capture, told local reporters that, in the end, the kangaroo turned out to be "very friendly."
"We just tried to corral it and keep it out of traffic," he explained. "He's very friendly. We were able to get a rope around his neck and get in the back of the car."
Norvis added: "I've been a police officer for 26 years. I've had snake calls and python calls, maybe an alligator, but never heard of a kangaroo around here."
Norvis was unable to provide Newsweek with further comment at time of post.
Police intend to hand the kangaroo over to the Florida Fish and Wildlife Conservation Commission, and the department will determine what to do with the animal from there.
In the meantime, Sergeant Sienna Greenlaw gave an update on the kangaroos condition in a video shared on the Fort Lauderdale Police's Twitter.
"Behind me is a kangaroo—something you would not expect to see along the streets of the city of Fort Lauderdale. But this morning we received a call that he was jumping around our community. Our officers responded to the scene, safely took him into custody and transported him here to our stables where he's safe and sound while FWC conducts their investigation. He will later be turned into their care, and that will be the end of our involvement with this case," she explained.
The rescued kangaroo is believed to have been someone's pet, however, authorities weren't aware of who the kangaroo belonged to nor how it ended up roaming the streets of Fort Lauderdale.
Under Florida law, it is illegal to keep animals designated under Class I—including animals like bears, large cats, crocodiles, chimpanzees and more—as domestic pets. Animals under Class II and Class III designation—which includes kangaroos—are allowed with proper permit.
This isn't the first time a kangaroo has been on the loose in Florida. Back in February, a kangaroo was spotted wandering around the Florida Redlands near Miami. The kangaroo was much too far to have hopped away from Zoo Miami at the time, and community leaders suspected that the kangaroo belonged to someone who lived in the area. However, Florida Fish and Wildlife Conservation Commission spokeswoman Carrol Lyn Parrish confirmed that there were no permit holders that listed kangaroos in the area.
"My guess is that it got out of someone's collection down there," Cindy Castelblanco, a spokeswoman for Zoo Miami told the Miami Herald in February.