Nearly 150,000 Gene-Hacked Mosquitoes to Be Unleashed in Florida
Nearly 150,000 mosquitoes that have been genetically modified by Oxitec, a biotechnology company based in the U.K., will be released across parts of Monroe County's Florida Keys region starting this week.
The release is part of an experiment to help combat a disease-transmitting local mosquito population (the Aedes aegypti mosquito species) that is responsible for "virtually all mosquito-borne diseases transmitted to humans" such as dengue, Zika and yellow fever, the company says.
Speaking to Newsweek, a spokesperson for Oxitec said: "We are releasing 12,000 [mosquitoes] per week for 12 weeks," which equates to a total of 144,000 mosquitoes, the spokesperson added.
The experiment—a collaboration between the Florida Keys Mosquito Control District (FKMCD) and Oxitec—received approval from the U.S. Environmental Protection Agency (EPA) and the Florida Department of Agriculture and Consumer Services (FDACS). It is also supported by the U.S. Centers for Disease Control and Prevention as well as an independent advisory board, Oxitec says.
"Oxitec's non-biting male mosquitoes will emerge from the boxes to mate with the local biting female mosquitoes. The female offspring of these encounters cannot survive, and the population of Aedes aegypti is subsequently controlled," the company said in a statement last Friday.
Oxitec said "release boxes, non-release boxes and netted quality control boxes" of the commpany's OX5034 male mosquitoes will be placed in six locations (two on Cudjoe Key, one on Ramrod Key and three on Vaca Key) during the last week of April and first week of May.
"Untreated comparison sites will be monitored with mosquito traps on Key Colony Beach, Little Torch Key, and Summerland Key," the company stated on April 23.
The controversial project has faced criticism from local residents, whose consent was not sought for the experiment, as well as environmental activists who also oppose the "irresponsible plan."
What is Oxitec?
Oxitec is a British biotechnology company that develops genetically modified insects "to safely and sustainably control insects that transmit disease and destroy crops," according to its website.
"Our insects contain a self-limiting gene, and when this gene is passed on to their offspring, offspring do not survive to adulthood, resulting in a reduction in the pest insect population," it says.
Why are mosquitoes being unleashed in Florida ?
The Aedes aegypti mosquito species (aka yellow fever mosquito) is responsible for "virtually all mosquito-borne diseases transmitted to humans," despite only making up around 4 percent of the mosquito population in the Florida Keys, Oxitec notes.
The species transmits several human diseases including dengue, Zika and yellow fever and can also transmit heartworm and other potentially fatal diseases to pets and animals.
Oxitec says: "The Florida Keys is a potential gateway for vector-borne diseases coming into the U.S. and vector-borne diseases are increasingly threatening the wellbeing of the people who reside in and visit the region."
Speaking to Newsweek, a spokesperson for FDACS said: "The Florida Department of Health in Monroe County (DOH-Monroe) received laboratory confirmation of 67 cases of locally acquired dengue virus infection between February and September 2020, underscoring the prevalence of mosquito-borne illnesses within this county.
"Ultimately, this could be an effective tool to combat the spread of certain mosquito-borne diseases such as Zika in light of growing insecticide resistance in mosquitoes. The male offspring will survive to become fully functional adults with the same genetic modification, providing multi-generational effectiveness that could lead to a reduction in Aedes aegypti mosquito populations in the release areas," the spokesperson added.
What the EPA says
The EPA's "Human Health and Environmental Risk Assessment" of the experiment states that based on several factors reviewed by the agency, it determined "there will be no unreasonable adverse effects to humans or the environment as a result of the experimental permit to release Oxitec's OX5034 male mosquito."
Speaking to Newsweek, an EPA spokesperson said the agency has reviewed the decision to grant Oxitec an Experimental Use Permit (EUP)—which was made under the previous administration—and "affirms this decision provides important and necessary human health protections."
The spokesperson said the agency's decision was "made after extensive evaluation of the best available science, consideration of public input, and consultation with technical experts at the U.S. Centers for Disease Control and Prevention (CDC).
"Like all pesticides, Oxitec's OX5034 mosquitoes, genetically engineered for population control, are regulated under the Federal Insecticide, Fungicide and Rodenticide Act (FIFRA). To be approved for an EUP or registration under FIFRA, pesticides must be shown to not cause unreasonable adverse effects to humans or the environment.
The spokesperson said that data submitted by Oxitec demonstrated that OX5034 mosquitoes meet the FIFRA approval standard, noting that the EUP also comes with "significant protections," including weekly monitoring and sampling of the mosquito population in the treatment areas.
"Additionally, it's important to note that only adult male OX5034 mosquitoes will be present in the environment and they do not bite people, further supporting EPA's finding that the mosquitoes are not expected to present risks to human health.
"If an unforeseen event occurs, EPA has maintained the right to cancel the EUP at any point during the 24-month period," the spokesperson added.
What the Florida Department of Agriculture (FDACS) says
Speaking to Newsweek, a spokesperson for the FDACS said the Experimental Use Permit was granted to Oxitec following "an extensive evaluation of the best available science" to field-test the use of the OX5034 mosquitoes in Monroe County.
The spokesperson noted: "This approval comes after review by scientists from numerous Florida state agencies, including the Department of Health, the Department of Environmental Protection, the Florida Fish & Wildlife Conservation Commission, and others.
"The EUP limits the application of the OX5034 Aedes aegypti mosquitos to 6,240 acres (3,120 acres in the first year, followed by 3,120 acres in the second year), in Monroe County, Florida, and stipulates that mosquitoes are not to be released within 500 meters of commercial citrus growing areas or sewage treatment plants where environmental oxytetracycline may be present.
"The EUP will allow proper evaluation of efficacy in suppressing female Aedes aegypti mosquitoes in Monroe County. While trials have been done in Brazil, additional experimentation is needed to evaluate performance under Florida conditions," the spokesperson said.
What environmental activists and residents say
Speaking to Newsweek via email, the executive director of the Florida Keys Environmental Coalition, Barry Wray, described the experiment as "an unscientific approval of complex technology and an irresponsible plan to release a Gene-Drive GM [genetically modified] Species into the wild in a place known as a National Sanctuary.
"Even if this technology were properly vetted through a scientifically rigorous process and it is not, the WHO [World Health Organization] recommends certain steps before any GM Species should be released into the wild. The next step would be caged trial, not wild release. Why is this step being skipped? Science is about process and proof, not belief and random exercise," Wray said.
Asked whether the WHO supports the Florida Keys mosquito project, a spokesperson for international body told Newsweek: "Oxitec had officially withdrawn from WHO's Vector Control Advisory Group a few years ago. Hence this study was not reviewed by WHO and we cannot make any comments."
Wray highlighted some of the risks in the latest experiment, which include "allergenicity uninvestigated, antibiotic resistant bacterial promotion" as well as the lack of "statistical proof that females will not be released, no surveys of access to antibiotic resources in the field, that would sustain female releases" and the lack of "clinical trials on female bite in the history of Oxitec."
"We are perplexed by the board's insistence to release this technology and feel it has been done in all the wrong ways without cultural concern, without need and creating unnecessary anxiety and risk to our community," Wray added.
Speaking to Newsweek, Dana Perls, emerging technology program manager at Friends of the Earth, a non-governmental environmental organization, said: "I believe that this experiment should be stopped in its tracks immediately. Companies should not be rubber-stamping their own data as safe, and trying to do the EPA's job for it. We need truly unbiased review, real transparency, and public participation."
She warned "the genetic alteration could actually worsen the spread of mosquito-borne disease."
The EPA reported that "more than 31,174 commenters expressed opposition" to the EUP being granted for this experiment during a public commenting period that was previously held.
Nearly 300 of the comments posted "urged the EPA to reject the application or delay testing until more information on OX5034 is available," according to the EPA.
Asked why consent from residents was not sought for this project, Oxitec said in a statement: "According to EPA, no informed consent is required, as: 'EPA does not find that the research involved with Oxitec's release of male OX5034 mosquitoes meets the regulatory definition of research involving human subjects...therefore the requirements of EPA's human studies rule do not apply to this research proposed by Oxitec.'"
The company added: "Oxitec's technology received support in 31 of 33 Monroe County precincts in 2016 in a first-ever referendum for a GM technology, highlighting a broad base of support."
Speaking to a Newsweek, Meagan Hull, a resident of Sugarloaf Key who has been living in the Florida Keys for 17 years, said: "The community of the Florida Keys is not in 'full support' of the Oxitec genetically modified mosquito trial."
At a Florida Keys Mosquito Control District board meeting on Tuesday, Hull said: "Assumptions were made and biases in interpretations of scientific information occurred throughout the decision making process leading up to this trial, yet we are marginalized, slandered in our own community, and diminished in our concerns for public health, during the time of a pandemic, may I add.
"The community of the Florida Keys, independent scientists, and international agencies recommend that this project is suspended, or terminated permanently," she added.
Hull said many questions raised around the experiment remain unanswered.
"In the Florida Keys Mosquito Control review of this technology and vendor, Oxitec, was it a consideration that Brazil recently announced the second highest number of dengue deaths in 21 years following Oxitec's exit from that impoverished nation?
"Is the Monroe County Department of Health aware of these shocking statistics following the Oxitec experimentation in Brazil?" she said at the board meeting Tuesday.
Speaking to Newsweek, a public information officer for Monroe County said: "The [Florida Keys] Mosquito Control District is a separately elected governing board," adding that Monroe County's "BOCC [Board of County Commissioners] was not involved with this decision."
Newsweek has contacted FKMCD, the Florida Department of Environmental Protection and CDC for comment.
Update 4/28/21, 10:35 a.m. ET: This article has been updated with comment from Friends of the Earth.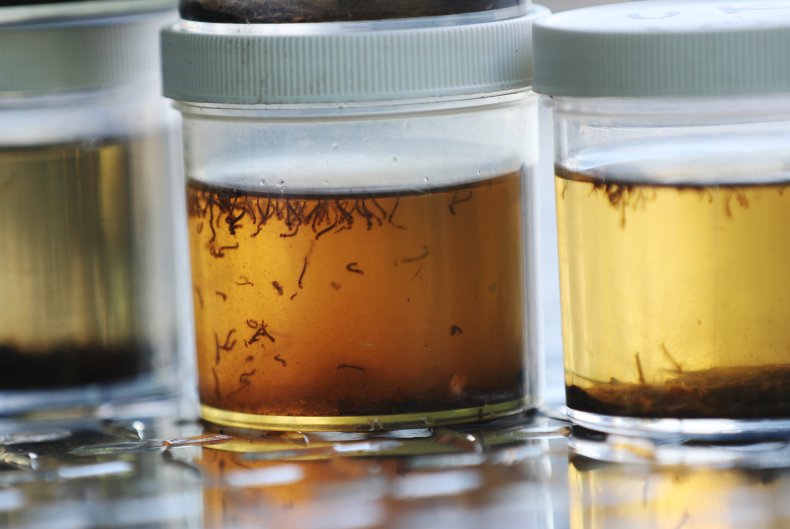 Newsweek, in partnership with NewsGuard, is dedicated to providing accurate and verifiable vaccine and health information. With NewsGuard's HealthGuard browser extension, users can verify if a website is a trustworthy source of health information. Visit the Newsweek VaxFacts website to learn more and to download the HealthGuard browser extension.