New coronavirus cases are surging in Florida, a state that has a large retirement-age population. With COVID-19 posing a significant threat to those 65 and older, the rising number of cases throughout the state has long-term care facilities on high alert for signs of the virus among residents and employees.
According to data updated Monday by the Florida Department of Health, 1,819 residents and employees at long-term care facilities throughout the state have died after contracting the virus. Data shared by state health officials last week showed the bulk of those who died were residents of the facilities, with employees accounting for fewer than 20 of the deaths reported.
Long-term care facilities thus far account for nearly 53 percent of the COVID-19 deaths reported statewide. By Monday, state health officials said a total of 146,341 people in Florida had tested positive and 3,447 people had died.
Though the deaths of long-term care facility residents comprise a majority of the state's total number of virus deaths, they only account for about 3 percent of the population living within those facilities.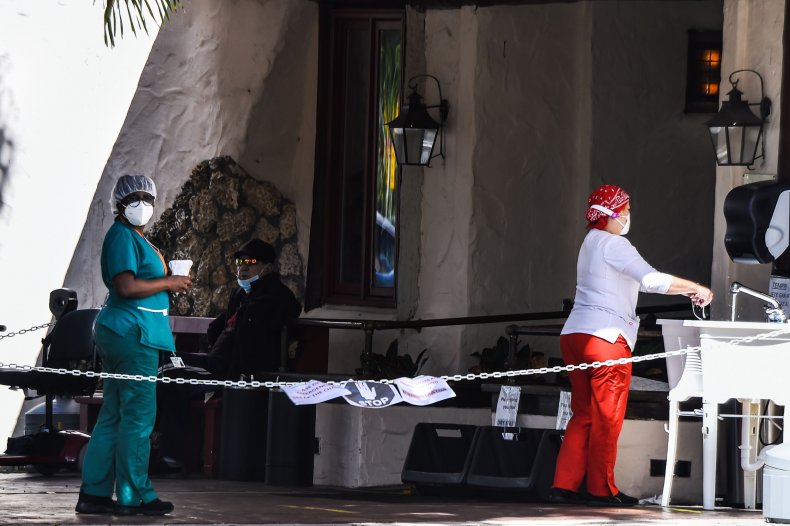 As The New York Times reported last week, several other states have outpaced Florida in terms of the percentage of deaths reported in elder care facilities, with nursing home residents accounting for about 43 percent of COVID-19 deaths nationwide.
The percentage of deaths attributed to long-term care facility residents in Florida is 10 points greater than the national average, but the percentage of residents who have contracted the virus is much smaller due to the state's high number of older residents. According to the United States Census Bureau's 2019 estimates, about 20.9 percent of Florida residents are at least 65 years old, and thus within the age group that the Centers for Disease Control and Prevention identified as the most vulnerable to suffering from or dying after contracting the virus.
Kristen Knapp, the director of communications for the Florida Health Care Association, told Newsweek about 3 percent of the state's long-term care residents and about 2 percent of the facilities' staff members have tested positive for the virus thus far.
"One thing we knew from the beginning was that people who are aged 65 and older—the residents in our nursing homes—they are susceptible," Knapp said. "We've been very vigilant from the beginning."
As in many other states, long-term care facilities in Florida restricted visitor access to residents and began boosting sanitation measures early on. Knapp said facilities also began designating COVID-19-only buildings as residents tested positive to keep the healthy and the infected separated. Residents were also occasionally transferred from one facility to another to prevent those without the virus from risking infection.
The newest step taken to protect long-term care facilities is routine testing of all facility employees. Launched earlier this month, the new testing routine mandates every employee be tested every two weeks to prevent asymptomatic individuals from slipping through the cracks.
"Universal testing is really critical. Doing the testing every two weeks is really important," Knapp said. "It helps us with making clinical decisions, it helps us when making staffing decisions."
In mid-June, the Agency for Health Care Administration required regular staff testing throughout Florida. The AHCA instructed facilities to block any staff member who is unable to show evidence of their negative test results from entering the buildings starting July 7.
In addition to protecting the most vulnerable, regularly testing facility employees also helps alert them if they have unknowingly contracted the virus. "It takes a special person to care for the elderly. These people are dedicated—they're coming to work, many under challenging circumstances," Knapp said. "Our residents also are not able to see their families, so our staff are doing what they can to be there, try to help them understand and make it through this difficult time."
Though Knapp said testing employees was a positive step forward, doing the same for long-term care residents would likely be going too far.
"Testing every two weeks for some of the individuals I think would be very challenging," Knapp said, noting the cognitive difficulties and physical ailments many residents struggle with that could make testing unsettling or uncomfortable. While staff members are regularly leaving and returning to the facilities, the residents are these days mostly staying put.
"Most of our residents have very complex medical needs; they're not necessarily leaving the building," Knapp said.
Though the virus is new, Knapp said responding to emergencies is something Floridians have grown used to from years of battling hurricanes. Those responsible for managing elder-care facilities are familiar with Florida's emergency response teams and experienced with moving residents as needed when threats arise.
"That expertise that we have in being able to rapidly respond is a tribute to what our facilities have been able to do," Knapp said.