Florida Lawmaker to Sue County Over Mask Mandate, as State Reports Over 12,000 New COVID Cases
A Florida state representative announced Friday his plans to file a lawsuit against Broward County over its mandatory face mask rule, amid rising coronavirus case numbers in the state.
Representative Anthony Sabatini, a Republican member of Florida's House of Representatives, wrote in a tweet early Friday morning he would file the lawsuit that day against the county to challenge its "radical attack on the 4th Amendment and their arbitrary emergency orders."
"READ THE CONSTITUTION," Sabatini tweeted two hours later, apparently referencing his earlier plea regarding the Fourth Amendment, which protects Americans from unreasonable searches and seizures by the government.
Andrew Meyers, Broward County Attorney, wrote to Newsweek in an email Friday afternoon that the county had not yet received Sabatini's lawsuit.
Sabatini, who holds a Juris Doctor degree, heads the Sabatini Law Firm in Clermont. He told Newsweek his firm plans to file the lawsuit later Friday.
"It's really just about the role of government," Sabatini said. "I don't really have a strong opinion about masks. I think that there's a time and a place where they're very, very helpful, there's times when they're kind of useless, and I think people need to make that decision of when they want to wear it."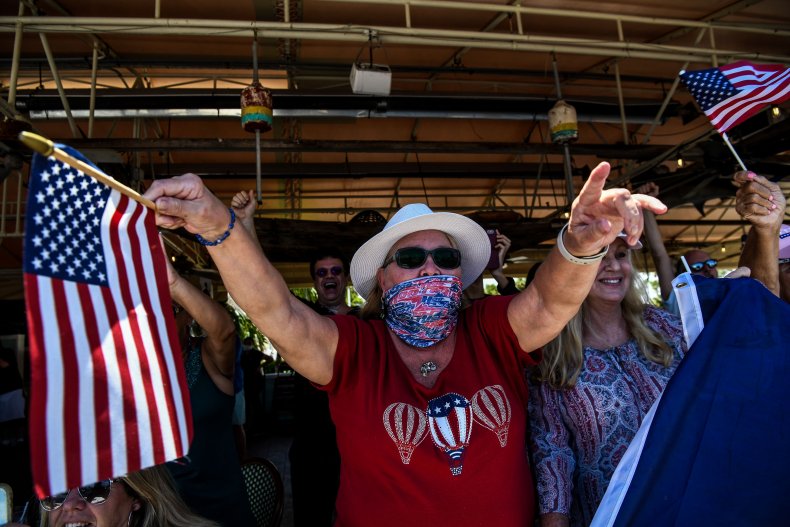 Broward County began requiring that face coverings be worn "by all persons" July 10, but amended its guidelines just one week later.
In Section 4A of an executive order signed July 17 by Broward County Administrator Bertha Henry, all county residents must now "ensure that all persons on the residential property, including guests, comply with any applicable guidelines of any Broward County Emergency Order, including the facial covering requirements."
Failure to comply with the order could result in a citation or misdemeanor charge punishable by imprisonment in the county jail, a $500 fine or both, according to a county ordinance.
Sabatini described this apparent criminalization as "out of control." The better strategy would be for government officials to encourage citizens to wear masks, he said.
The state representative said Section 4A specifically violates citizens' constitutional rights, and their expectation of privacy.
"[County officials] decided basically to re-write the Fourth Amendment and say, 'You know what? You have to wear a mask inside your home, you can only have 10 people inside your home, it's a misdemeanor if you have more than that,'" Sabatini told Newsweek. "So basically what that equates to in nonlegal language is that...now a police officer can go get a warrant and literally go and just barge inside your home."
Sabatini's lawsuit will be filed on behalf of a gym owner in Broward County whose business has suffered because of the executive order, Sabatini said.
Sabatini joined a group Friday morning in front of the Broward County Courthouse to protest the mask mandate, asking county officials to either retract the order or make masks a recommendation.
In his email to Newsweek, Meyers wrote that the restrictions set forth by county officials "are not carved in stone, but rather adjusted based on new information as it becomes available."
"We had already been further analyzing some of the contents of the emergency order we believe, based on press reports, will be challenged in the threatened lawsuit," Meyers wrote. "If the lawsuit raises any material points we had not yet considered, we will ensure those points are also considered."
Meyers added that South Florida's status as a new coronavirus epicenter has resulted in the need for the county to impose additional measures on its residents.
Broward County, the state's second-largest in terms of demographics, reported a total of 46,576 known coronavirus cases Friday. The Florida Department of Health confirmed 12,444 additional cases Friday, bringing the state's total to 402,312.