Florida Lawmakers Consider Bill That Would Allow Parents to Sue Schools With Mask Mandates
Republican Florida lawmakers are considering a bill that would allow parents to sue schools with mask or vaccine mandates, the Associated Press reported.
It is one of the bills to be discussed in the special legislative session started on Monday. According to the Tampa Bay Times, parents would get to decide if their children wear a mask or get the vaccine under the bill. To force school districts to comply, parents have the ability to sue, and if they win, they would be given attorneys' fees and costs.
The proposal was originally filed by state Senator Keith Perry on October 13 and considered for the 2022 legislative session before Republican Governor Ron DeSantis called the special legislative session, the Pensacola News Journal reported. The proposal also restricted cities and counties from enforcing that people wear masks and undergo medical procedures and treatments.
Other proposals include letting workers opt out of COVID vaccine mandates restricting private businesses from having coronavirus vaccine mandates unless they allow exemptions for medical reasons, religious beliefs, proof of immunity based on a previous COVID infection, regular testing, and an agreement to wear protective gear, AP reported.
Employers could be subject to fines up to $50,000 for firing a worker without offering the exemptions. Another proposal restricts COVID vaccine mandates for public schools and government workers in Florida.
If successful, Florida would become the first state to pass a law that fines businesses and hospitals that obey President Joe Biden's vaccine mandate, according to CNN. The state is one 26 fighting the Biden administration in court over its private employer vaccine mandate.
"We need to stop bossing people around," DeSantis said last week, CNN reported. "We've got to stop the coercion."
Democrats have denounced the special session as a move to elevate DeSantis' standing with the GOP.
For more reporting from the Associated Press, see below.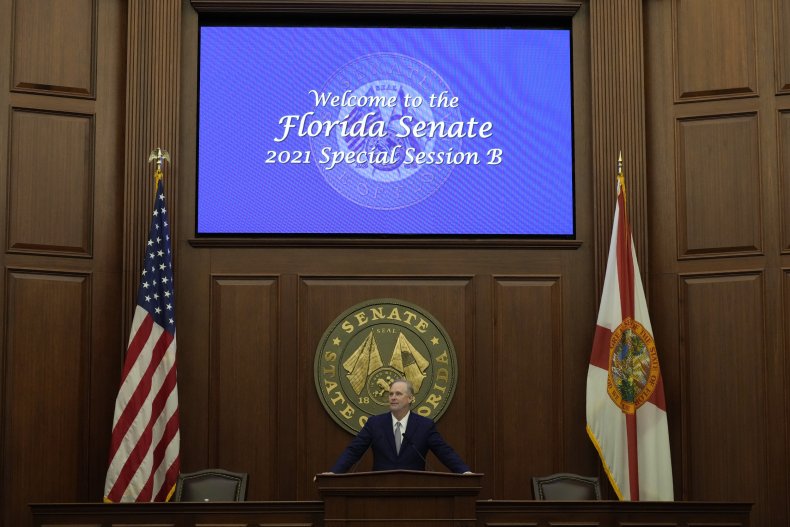 DeSantis has become one of the highest-profile Republican governors in the country through his vocal opposition to lockdowns and virus mandates, pitting himself against Biden as DeSantis runs for re-election and eyes a potential 2024 presidential bid.
"I am sick and tired of having to be a pawn in Governor Ron DeSantis' political ambitions," said state Representative Anna Eskamani, an Orlando Democrat.
The DeSantis administration has previously sued the White House over a rule requiring vaccinations for federal contractors and recently joined more than two dozen other Republican-led states in lawsuits challenging another federal vaccine mandate for private businesses with 100 employees or more.