Florida Man, 68, Crashes Lawn Mower Into Cop Car, Tells Police Officer 'F*** I'm Drunk, Take Me to Jail'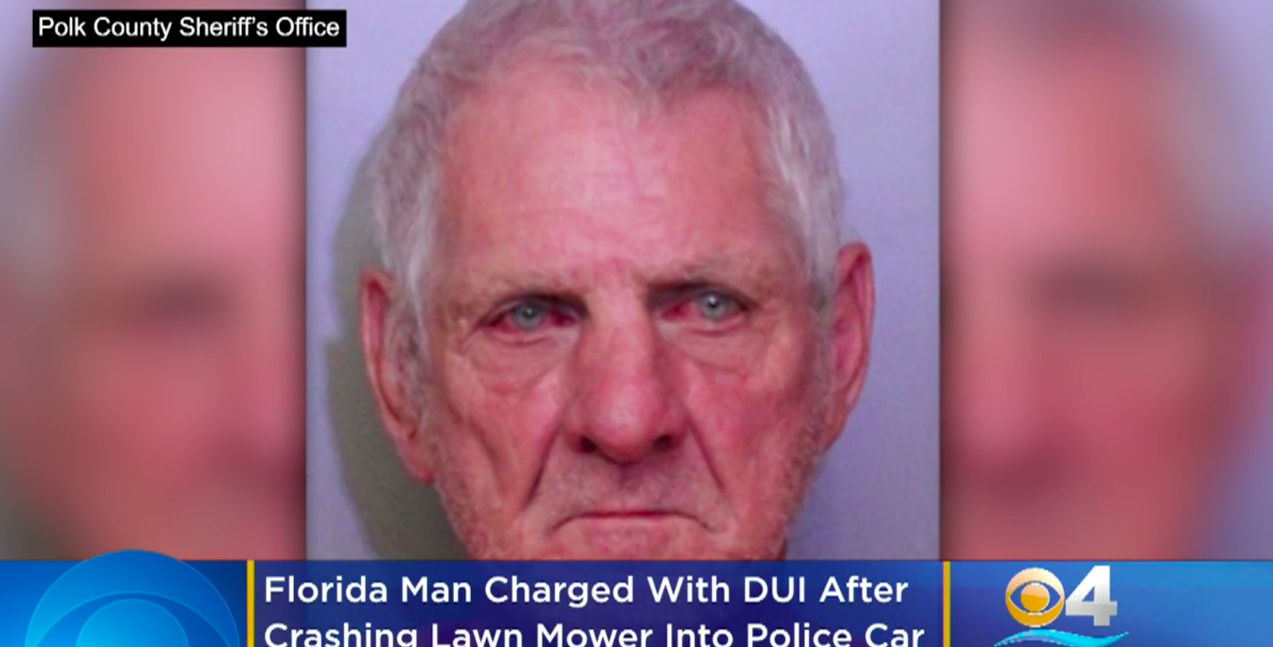 A Florida man was arrested and charged with a DUI over the weekend after he allegedly crashed a lawn mower into a cop car while under the influence of alcohol.
Gary Anderson, 68, allegedly crashed his lawn mower into a parked police vehicle on Sunday, May 5 while the officer was tending to an unrelated incident at a business premise in Haines City, in Polk County, Florida, reported Miami CBS Local.
Although the officer did not see the collision, he claims to have heard a loud crash while inside the shop and rushed outside to see Anderson holding the lawn mower in close proximity to the vehicle. The officer also noticed minor damages to the back and bumper of the patrol car, according to the Haines City Police Department.
As the officer confronted Anderson, the suspect immediately admitted to crashing the lawn mower into the cop car and said he was intoxicated. "F*** it, I'm drunk, take me to jail," he reportedly told the officer. According to a police affidavit, Anderson's eyes were bloodshot during the incident and his mood fluctuated multiple times between anger and levity.
"I'm proud of the professional demeanor our officers showed when dealing with this heavily-intoxicated, belligerent offender," Haines City Police Chief Jim Elensky said, according to Miami CBS Local. "It's never a good idea to get behind the wheel drunk, even if that wheel is to a Craftsman, Massey Ferguson or John Deere."
To confirm Anderson's intoxication, the officer administered a few sobriety tests on the suspect. After Anderson failed all of the tests and allegedly attempted to deceive a breathalyzer test, he was charged for driving under the influence (DUI).
Anderson then claimed that police had poisoned him, which prompted authorities to immediately transport him to a local hospital, where another breath test showed his blood alcohol level at .241, three times over Florida's legal limit. Subsequent tests also revealed he had traces of cocaine in his body.
Anderson remained in police custody at the Polk County Sheriff's Office on Tuesday afternoon with bond set at $3,000. It is unclear whether he has since been released.
The Polk County Sheriff's Office did not immediately respond to Newsweek's request for comment.
Haines City, a small city in Florida's Polk County, has a crime rate — 23 crimes per one thousand residents — considerably higher than the national average across all communities in the U.S., according to Neighborhood Scout.
More than 54 percent of Florida's cities have a crime rate lower than Haines City, whose roughly 24,305 residents have a 1 in 44 chance of being a victim of either a violent or property crime.