Florida Man, 83, Shot Neighbor in Heated Dispute About Ducks and Geese, Daughter Says
An 83-year old Florida man has been charged with attempted first-degree murder after he allegedly shot his neighbor over a dispute about feeding local ducks and geese.
Victor Ezquerra allegedly approached his neighbor, Jose Gambarrutta, on Tuesday morning as Gambarrutta sat on his own front porch. The two men then got into a scuffle and Ezquerra eventually shot Gambarrutta in his arm, a witness said. Gambarrutta eventually released the gun, and the witness then called police after kicking the gun away, Local 10 News reported.
Gambarrutta recorded the incident on his cell phone, leading police to arrest Ezquerra later on Tuesday. Ezquerra is being held without bond after a Wednesday court hearing. Gambarrutta remains in the hospital recovering from his injury.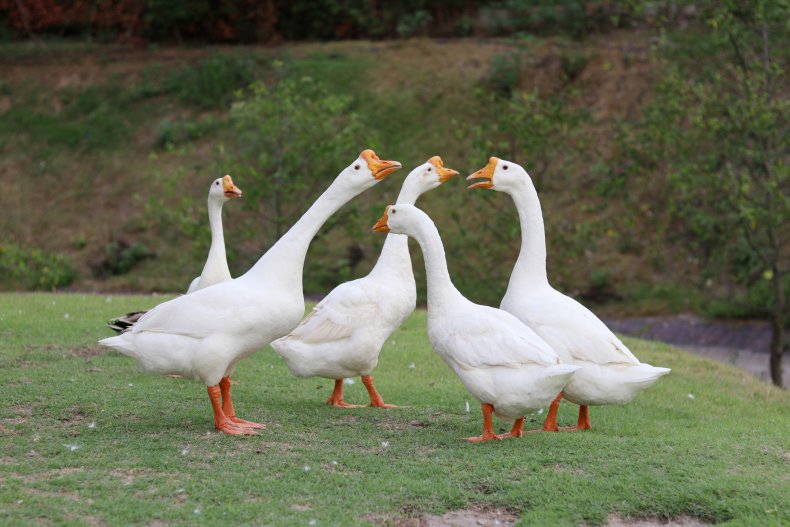 Ezquerra's daughter told the news outlet that the shooting occurred because of an ongoing dispute involving her father feeding local ducks and geese. While the nature of the dispute remains unclear, such birds can be a nuisance, destroy property and spread disease.
"When I came home I heard that he shot him," she said. "He shot the man and I am like, 'Why did you shoot him?'"
Ezquerra's daughter said her father can be difficult to get along with, but added that she never thought he was capable of such an action.
Newsweek contacted the Broward County's Sheriff's Office for comment.
The incident took place in Hallandale Beach, a coastal city in Florida where waterfowl are common.
In particular, the area and other parts of Florida have issues with Muscovy Ducks, a species native to Central and South America. The ducks reproduce quickly and are aggressively territorial, especially in areas where they regularly feed. The ducks can chase, attack and bite humans as well as children.
The ducks like to feed on plants which sometimes causes them to destroy local lawns. They can also transmit the avian influenza virus and other diseases to humans and native waterfowl, according to the Florida Fish and Wildlife Conservation Commission.
"Controversies frequently arise between residents who enjoy the birds and residents who consider them a nuisance," the commission wrote on its website.
Geese, on the other hand, are often drawn to wetlands and can quickly lay massive amounts of fecal waste. Geese produce, on average, about half a pound of feces daily, according to the National Institute of Health.
Their feces can contain E. coli, salmonella, campylobacter, cryptosporidium and other germs that are deadly to humans and house pets. A small flock of geese can quickly contaminate local ponds, pools and fountains too.