Florida Man Admits to Stabbing Stepfather to Death Because Thought He Was the 'Devil'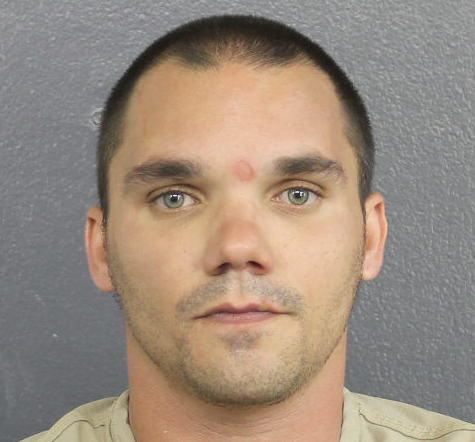 A 32-year-old Florida man allegedly admitted to slitting his stepfather's throat because he believed the 60-year-old was "the devil," the Broward County Sheriff's Office announced. Arrest records show Jonathan Lauf sent text messages saying he needed to kill his stepfather but was afraid to.
The sheriff's office said Lauf was arrested on Tuesday for the murder of John "Jay" Licausi in Tamarac, Florida.
Lauf's acquaintances contacted authorities after he made alarming phone calls and texts messages about killing Licausi, according to the arrest report. He allegedly messaged people saying, "I slit Jay's throat" and asking what he should do about him.
Licausi's body was found face down in a bedroom surrounded by pools of dried blood in the apartment he shared with his stepson in the 9000 block of Lime Bay Boulevard, the Sun Sentinel reported. The arrest report revealed there was blood splattered on the walls and bed sheets. Blood had also been tracked throughout the apartment.
Licausi had been cut deeply twice, once on the neck and another time along his left jawline. According to the arrest report, detectives found a knife and knife sharpener on the coffee table in the living room.
During the investigation, detectives found a text message from Lauf to a witness that said, "I have to kill him, but I'm scared bro."
Lauf allegedly talked to himself as he waited alone in the interview room at the sheriff's office, the Sun Sentinel reported. He reportedly asked himself, "What the f--- did you do?"
Beth Weisbrot, who identified herself as Lauf's sister, told the newspaper that her brother was battling a mental illness. "He's never been someone to hurt somebody else, only himself," she told the Sun Sentinel.
The Broward County Sheriff's Office said that Lauf has four previous arrests in the county for charges of aggravated assault with a deadly weapon, battery, possession of fentanyl, possession of cannabis, obstruction and petit theft. Lauf now faces a charge of premeditated murder, the sheriff's office said.
Lauf is being held at the Broward Main Jail. Jail records show that no bond amount has been set. Judge Dennis Bailey has been assigned to oversee Lauf's case, according to Broward County Court records. No other details have been released about the case.
The Broward County Sheriff's Office asked that anyone with information contact BSO Detective Bryan Tutler at 954-321-4281. Those who prefer to remain anonymous can call the Broward Crime Stoppers at 954-493-TIPS or visit BrowardCrimeStoppers.org.