Florida Man Allegedly Told Teen to Remove Mask, Left Spit on His Face: 'You Now Have Coronavirus'
A Florida man has been accused of grabbing a minor wearing a mask at a restaurant in Treasure Island, getting so close to the teenager's face that he left spit on him.
The incident, which took place Sunday night at Ricky T's restaurant and bar, resulted in 47-year-old Jason Andrew Copenhaver's arrest. According to Treasure Island police, Copenhaver was arrested on charges of simple battery and disorderly conduct.
Copenhaver, who appeared to be intoxicated and was not wearing shoes, approached a 16-year-old boy, who was wearing a mask, at one of the tables and asked if the child was wearing a mask, according to arrest reports. When the teen replied to say he was, Copenhaver insisted he take it off.
The minor refused to comply, to which Copenhaver then grabbed the teen's hand, telling him he now had coronavirus.
Newsweek subscription offers >
"Victim stated that [Copenhaver] was in such close proximity that spit particles from [Copenhaver's] mouth landed in his face," officers wrote in the report.
Copenhaver told officers he has never been tested for COVID-19.
After harassing the minor, he reportedly walked to the bar area and tried to hit one a restaurant staff member. He was escorted out of the restaurant by employees, where he remained until police arrived on the scene.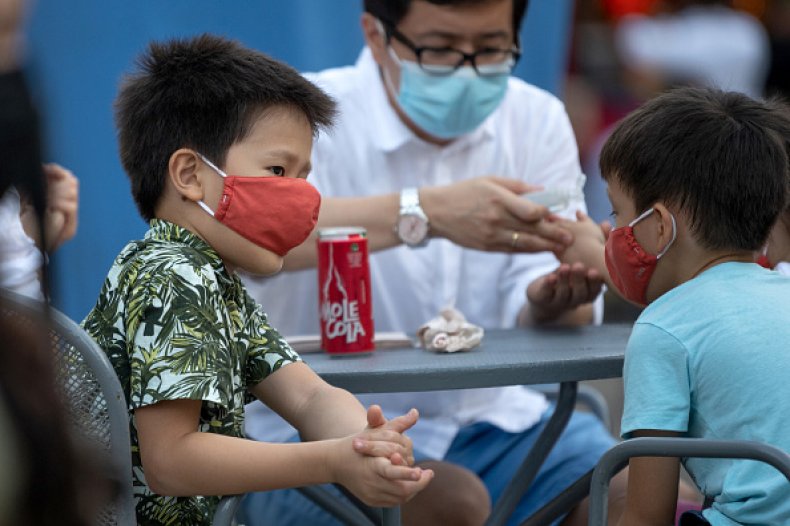 Newsweek subscription offers >
According to Ricky T's website, all customers are required by the county to wear masks before being seated for service, a mandate Copenhaver failed to follow.
"In order for us to be compliant with Pinellas County Ordinance 20-14 all of our guests must wear a mask for service, once seated and properly social distancing the mask may be removed to enjoy food, beverage and good company," the website reads.
The Pinellas County Board of County Commissioners passed an emergency ordinance requiring face coverings in public spaces on June 23.
Records indicate that Copenhaver was booked into the Pinellas County Jail, but was released after posting bail.
Newsweek reached out to the Treasure Island Police Department for comment but did not hear back before publication.
As of Tuesday, August 4, the county has reported 17,047 confirmed cases of coronavirus and 460 deaths, according to data from Florida's Department of Health.
Of these cases, four percent have been in children under the age of 15. Floridians between the ages of 25 and 34 account for the largest percentage of positive COVID-19 cases in the county. However, the majority of hospitalizations and deaths are among those ages 55 and older.
Nine percent of all cases countywide have been hospitalized. Currently, there are 1,574 hospitalizations in Pinellas County.
Update, 04/08/20 4 p.m. EDT: This story was updated with the teenager's age.
Florida Man Allegedly Told Teen to Remove Mask, Left Spit on His Face: 'You Now Have Coronavirus' | News