Florida Man Almost Loses Hand to Rare 'Flesh-eating' Bacteria After Being Pricked by Fishing Hook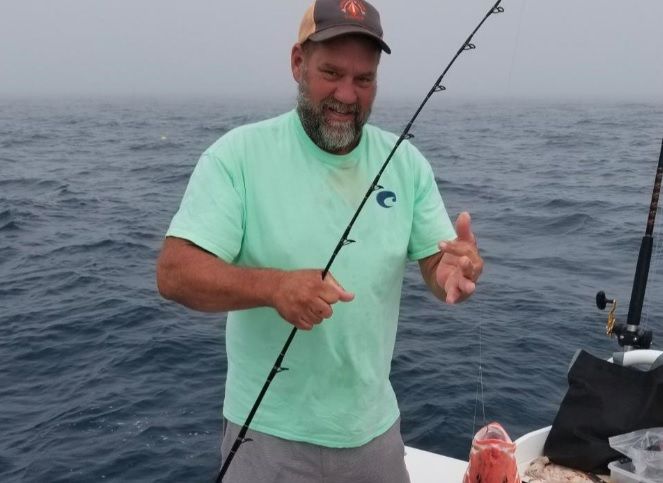 A Florida man has been hospitalized by a rare "flesh-eating" bacterial infection he contracted on a fishing trip over the weekend.
Mike Walton from Ozona was fishing in the Gulf of Mexico when he was nicked by a hook, ABC News reported. Walton was fishing with the Ozona Fish Camp group.
After his hand started to swell, the long-time fishing enthusiast and mason went to hospital, where doctors prescribed him antibiotics. But by Sunday, black blisters had formed on his now-bulbous hand.
Walton told ABC News: "I had like little blisters starting to form on my hand and you could watch like sweat beads coming up on side of the hand, and then they just turned black."
He headed to Tampa General Hospital, where he was diagnosed with necrotizing fasciitis: a rare bacterial infection that lets out toxins, which damage the surrounding tissue.
It is sometimes called a "flesh-eating" bacteria, although it does not "eat" the flesh. The symptoms overlap with other conditions, and can be confused for flu or gastroenteritis. In the early stages, a sufferer can be hit with a high temperature, as well as severe pain that seems mismatched to the size of the injury. Hours or days later, the condition can cause the area to swell and fluid-filled blisters to form.
The person can also experience vomiting and diarrhea. If left untreated, the infection can cause sepsis and organ failure. Treatments include a combination of surgery to cut away the infected tissue—which can result in amputations—and a course of antibiotics.
"When you look down and you can see your own tendons, the back of your hand and your bone going up your arm, that makes it real," he told ABC News.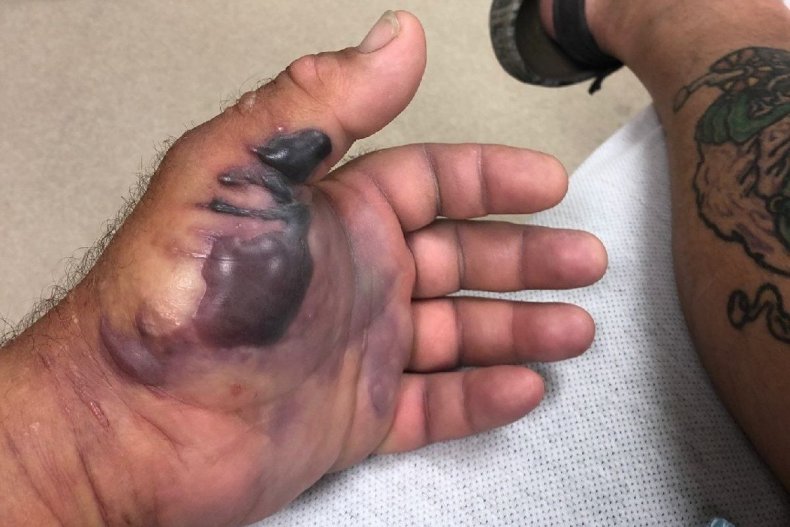 According to a GoFundMe page set up to support Walton, doctors warned him the infection was spreading quickly and he might lose his arm.
On Monday and Tuesday, surgeons cut out the infected tissue in his hand and arm. However, it is unclear whether he will retain full function in the limb, according to his GoFundMe page. Surgeons also performed a skin graft on his hand up to his arm.
Medics told Walton he was lucky to have saved his arm and to be alive, ABC reported.
Walton is the sole provider for his daughter, sister and elderly parents, the page states, and he won't be able to work while he recovers. Since the site was launched 8 days ago, almost $18,000 has been raised for Walton.
His GoFundMe page read: "Mike has always been a huge part of this fishing community. Fishing in local water all his life, he would never imagine something like this striking him and his family."
On Wednesday, Walton returned home, Eric McLendon, the owner of Ozona Fish Camp, told Newsweek.
"He is optimistic and looking forward to fishing again," he said. "He has been fishing his whole life here and fishes as often as possible. He would fish every day if time would allow."
McLendon said Walton helps out around the camp if he sees something needs fixing. "He is just that way," said McLendon.
While it may take several months to a year for Walton to recover, McLendon said: "Mike is a fighter and so I believe that he will get better."
This article has been updated with comment from Eric McLendon.