Florida Man Apologizes After Confrontation Threat Over Mask Mandate Puts School in Lockdown
A Florida man apologized after his threat to leave his workplace and confront an elementary school assistant principal forced the school to go under a temporary and limited lockdown, the Associated Press reported. Christopher Kivlin made the threat after the assistant principal told his children that they couldn't enter the school building without wearing a face mask.
While speaking to television station WFLA, Kivlin apologized for scaring anyone and said that he did not intend to hurt anyone, but rather wanted to speak to a school official about the situation, the AP reported. He said that "it was just emotions built up."
"I found out after the fact that the school had to go into lockdown, I was like, 'That's horrible,'" Kivlin said. "I feel like I might have scared other parents."
The incident involving Kivlin is only one of many clashes among Florida schools that imposed mask mandates and parents who say the choice of masking their children should remain with them.
Parents of students attending the Orange County Public Schools district protested a mask requirement outside the school district office Monday, WESH 2 reported. Monday was the first day with required masks for OCPS after nearly 3,300 positive COVID-19 cases were detected across the district in three weeks of school, according to the district dashboard.
A fight broke out over required masking for Lee County School District, which imposed a 30-day mandate without a vote or consultation with parents, outside a school board meeting, the Independent reported. The confrontation was initiated when a protester "shoved" a doctor off of a sidewalk, and police at the scene had to break up a resulting exchange that included heavy pushing and shoving.
For more reporting from the Associated Press, see below: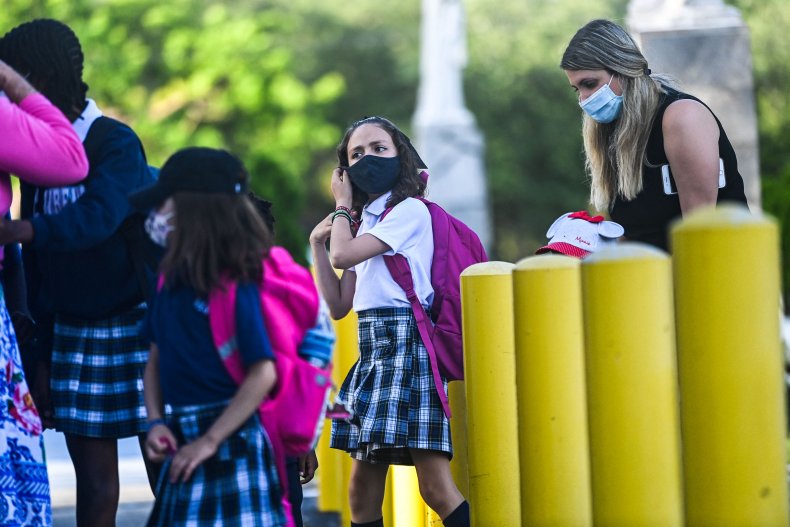 Kivlin was met by police officers Tuesday outside Ashton Elementary School in Sarasota. No charges were filed but he was ordered not to come back to the school without calling first and getting permission.
An incident report said Kivlin showed up to campus saying the school was violating the law by not allowing his children to attend school.
The Sarasota County school district is among a dozen of Florida's 67 districts, representing about half of the state's 2.8 million public school students, that have defied Governor Rob DeSantis' executive order barring schools from requiring masks over parent objections. A judge last week ruled DeSantis did not have the authority to issue the order. The DeSantis administration is expected to appeal the decision.