Florida Man Arrested for Allegedly Changing Gov. DeSantis' Voter Registration Address
A Florida man was arrested this week after allegedly changing Florida Governor Ron DeSantis' voter registration address.
The Florida Department of Law Enforcement (FDLE) said 20-year-old Anthony Steven Guevara from Naples was charged with changing a voter's registration information without permission and unauthorized computer access, both of which are felony charges.
A FDLE news release said that DeSantis reported the unauthorized change of his voter registration address to law enforcement officials on Monday. According to Guevara's arrest report, DeSantis discovered the change when he went to his designated polling location to vote on Monday afternoon. He told FDLE authorities that his primary address on file had been changed to a location in West Palm Beach, the FDLE said.
The FDLE said agents arrested Guevara after serving a search warrant to his home on Tuesday night. Agents pinpointed Guevara as a suspect earlier Tuesday after tracing the IP address of the computer that allegedly made the address change to his home, the FDLE said.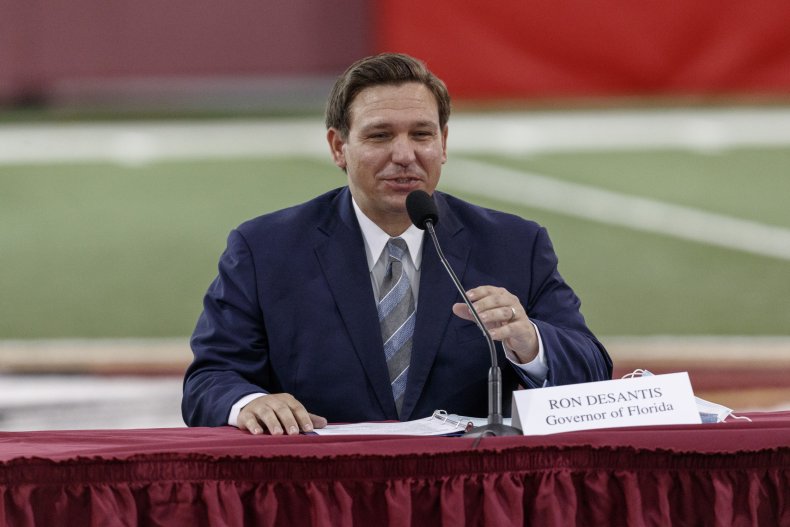 Guevara was arrested with the assistance of the Collier County Sheriff's Office, the FDLE said. His arrest report said one of FDLE's digital forensic examiners found evidence on Guevara's computer to suggest that he allegedly visited the Florida Department of State website and DeSantis's Wikipedia page. FDLE agents also said they found evidence that Guevara allegedly used Google to search for the terms "florida my vote" and "Florida Governor."
Guevara was taken to the Collier County Jail, where he was held on Wednesday on a $5,000 bond, the FDLE said.
The FDLE's news release said agents also suspected Guevara may have accessed the voter registration information for Florida Senator Rick Scott and basketball stars Michael Jordan and LeBron James. The FDLE said there was no evidence to suggest that Guevara made changes to those individuals' voter registration information.
In the news release, FDLE Commissioner Rick Swearingen praised the department's work and added, "FDLE is committed to ensuring the voting rights of Florida citizens are protected, and we will continue to work with our local, state and federal partners in ensuring the security of our elections."
Guevara's arrest came with just one week remaining until Election Day in one of the presidential election's key battleground states. President Donald Trump won the state by about 1.2 points in 2016, but state polling averages compiled by FiveThirtyEight suggest that Democratic presidential nominee has a lead in the state that is about as narrow.
Although this election cycle is expected to see more voters casting their ballots by mail than ever before due to the coronavirus pandemic, many voters are still choosing to vote in person, as DeSantis set out to do on Monday.
Newsweek reached out to DeSantis' office for comment but did not receive a response in time for publication.