Florida Man Arrested for Allegedly Threatening to Burn 'Millions' of Black People in Series of Videos: 'I'm Very Racist'
A Florida man was arrested after allegedly threatening to burn "millions" of black people in a series of racist videos he posted online.
Mostafa Hussaini, 34, was taken into FBI custody in Davie, Florida on Wednesday for allegedly transmitting threatening interstate communications.
In a December 8 YouTube video titled "Soldier Burns, Fantasizing to Burn Enemy," Hussaini is reportedly seen feeding a fire at a public grill while discussing his hatred of black people and his desire to kill them.
"Imagine burning a black person, because I don't like blacks. I don't know any blacks," said Hussaini in the video which has since been removed from YouTube, according to The Miami Herald. "I, I cannot even name any blacks. I don't know any black people. ... This gasoline, imagine burning some black soldiers they are going to look very black. I can burn thousands, millions of them."
Further videos show the man, who posts under the name "Vam Vima," advising people to bring weapons to Miami while explaining that his hateful sentiments extend beyond black people.
"I don't like blacks, Spanish, some white, but there is no whites in Miami. ... Try to stay outside City of Miami. ... If you are in Miami bring your gun and let everyone know.... If you have a machine gun, bring your machine gun. If you have your handgun, bring your handgun," he says in another video, according to the outlet.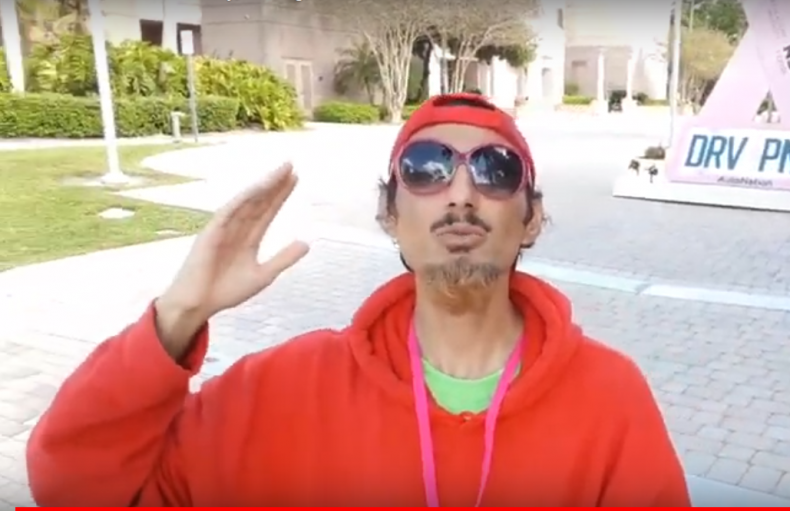 In one video, the man is said to express his desire to "genocide" Americans. Another video allegedly shows him killing a parakeet by setting it on fire. He reportedly said he named the bird "Jesus" because he also hates and wants to kill Christians.
Several recordings involve the man defecating in public areas or on food items. He brings a contaminated cup of coffee to a grocery store in one video, where he complains that he wasn't able to eat food from the store during previous prison stints, being fed only "bread and peanut butter and beans."
Hussaini admits he is "very racist" in a video of him visiting a university campus, which he says he hopes will be shown in a "state of the art, modern theater." He complains that the president of the university won't give him a job in the video. He also explains that he wears boots to "step on lizards" and carries a knife to "slit the throats" of alligators and lizards.
Other recorded threats made by the man specifically mention Mitsubishi vehicles, which he claims are "the weapon of choice" to kill both people and chickens.
Hussaini made his first court appearance Thursday and his case continues to be investigated by the FBI, Davie Police Department, Miami Beach Police Department and the U.S. Army Counterintelligence Command.