Florida Man Arrested for Domestic Battery After 'Throwing Pop Tart' at Wife's Head, Police Say
A Florida man has been arrested and charged with domestic battery after allegedly angrily throwing a Pop Tart toaster pastry at his wife's head.
Police took Brandon Sutherland, 36, into custody on Sunday night after the alleged incident, according to Pinellas County Sheriff's Office documents obtained by The Smoking Gun.
The incident reportedly happened at the couple's St. Petersburg residence after a heated argument broke out. Sutherland is said to have thrown the Pop Tart when he became "upset," although the pastry failed to actually hit the woman. However, he did allegedly manage to strike the woman's upper arm with his hand as he threw the Pop Tart.
An officer described the alleged incident in a police report filed the following day.
"The victim stated that she and the defendant were involved in a verbal argument," wrote the officer. "She stated the defendet [sic] became upset and intentionally threw a pop-tart at her head."
Although Sutherland's Pop Tart attack proved to be off-target, his admitted "grazing" of the woman's arm was apparently hard enough to leave a mark.
"I observed a red mark on the victim's upper right upper arm," stated the officer. "After asking the defendant what happened, he stated he threw a pop-tart at the victim and grazed the woman's right arm with his left hand. I also observed the broken pop-tart on the floor of the residence."
The police report lists Sutherland's occupation as "disabled vet." He was previously arrested for allegedly attacking the same woman in 2018 although a misdemeanor battery charge was not ultimately pursued, according to The Smoking Gun.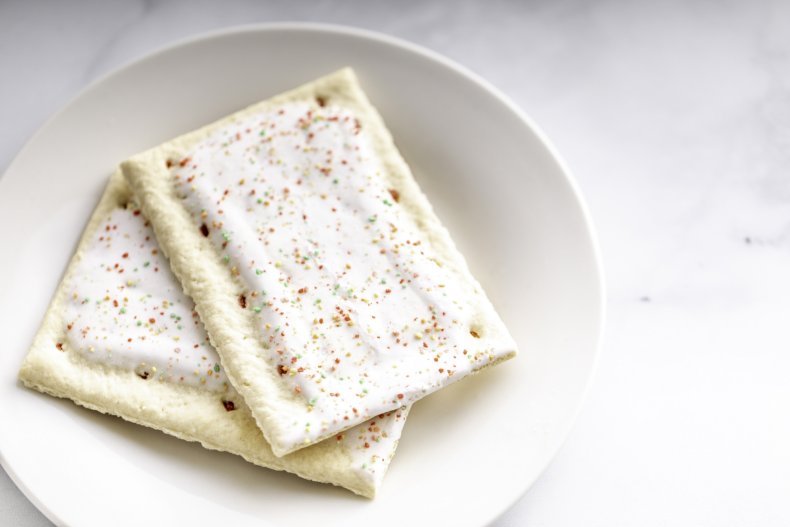 Pop Tarts may not seem like obvious weapons, but Sunday's incident is not the first time they have been used to attack people.
In October, a 15-year-old on Staten Island, New York suffered a broken eye socket after a pair of teens allegedly attacked her with Pop Tarts, along with fellow Kellogg's brand food product Rice Krispies.
In March 2018, an 18-year-old high school student in Seminole County, Florida was arrested for allegedly "causing intentional harm to a child under 18 years old" by attacking a girl with a Pop Tart, smashing it into her face and hair.
A March 2013 incident resulted in a 7-year-old Maryland boy being suspended from school after allegedly brandishing a "weapon" made by chewing a pastry "akin to a Pop Tart" into a shape that resembled a gun.
A year after the boy was suspended for using the "Pop Tart gun," Maryland passed a law that updated school guidelines to specifically prevent children from being suspended or expelled for having a "gun" made out of a pastry. Apparently anticipating potential problems in the future, Florida passed a similar law in 2014.
Sutherland was released Monday after a judge ordered him to stay away from his wife.