Florida Man Arrested for Handing Out Free Marijuana 'Because It Was Christmas,' Police Say
Police in St. Petersburg, Florida arrested a man on Saturday for handing out free marijuana to passers-by "because it was Christmas," according to WFLA.
Police reported that Richard Ellis Spurrier, 67, was giving people marijuana in downtown St. Petersburg. Upon investigation, authorities discovered 45 grams of the narcotic on Spurrier's person.
Spurrier was also in possession of a digital scale, a glass pipe and a prescription bottle with his name on it. Police also found a sword hidden inside Spurrier's cane.
Suprrier was released from custody on Sunday after being charged with possession of drug paraphernalia and possession of marijuana with the intent to distribute.
Newsweek reached out to the Pinellas County Sheriff's Office for further comment but did not receive a response in time for publication.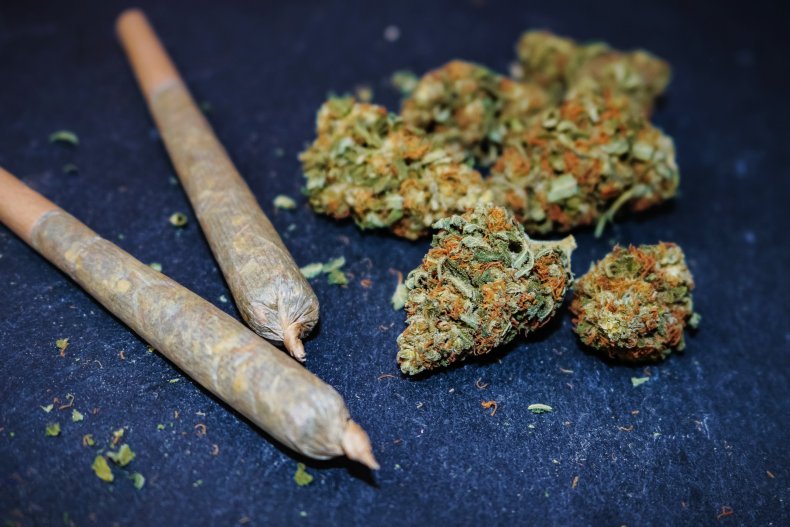 Some Floridians who find themselves in possession of recreational weed seem to be more than happy to share it.
As Newsweek previously reported, a Florida man in Flagler County was arrested in May 2019 for asking police officers to share some marijuana with him.
Arthur Carracino flagged officers down showed them a marijuana plant he admitted to growing before telling officers, "Guys, you gotta smoke a bowl with me, please." Carracino was subsequently arrested.
While medical marijuana has been legal in Florida since 2016, a proposed resolution to decriminalize 20 grams or less of recreational marijuana is expected to be voted on by Florida's legislature in 2020.
Not everyone is welcoming to the idea of recreational marijuana in Florida. In November, Floridians Against Recreational Marijuana (FARM) announced its intention to prevent marijuana from becoming legal in the Sunshine State.
"Our coalition has come together to defeat this dangerous ballot initiative, which will drive an increase in health care prices, increase costs on businesses and kill jobs and increase the burden on taxpayers that will pay for the costs associated with recreational marijuana," said FARM campaign manager Brian Swensen in a news release.
Florida Senator Marco Rubio has also come out against the legalization of marijuana. During a campaign even in 2016, the Republican told attendees that he believed pot was as insidious as alcohol.
"No one can tell me that alcohol's had a positive impact on society," Rubio said. "It destroys marriages and lives. It kills people... and now you want to add another intoxicant and make it legal?"
"There's no positive impact to using marijuana," Rubio added. "Now, if there's a medicinal use- if you can go to the FDA and prove that it helps with medicine, that's fine. Then turn it into medicine."