A Florida man has been arrested after he spat on a man and slapped his "Make American Great Again" (MAGA) hat, according to police.
Matthias Ajple, 43, approached MAGA hat-wearing Robert Youngblood, 67, at a restaurant in the city of Vero Beach on Friday evening, according to an arrest affidavit.
Youngblood told an Indian River County Sheriff's Office deputy he was sitting at the bar of Hurricane Grill on 943 15th Place with two friends, when Ajple walked over and said: "You should go back to Russia you f*cking communist."
Ajple then slapped the brill of Youngblood's hat, before leaning over a gate and spitting on him, the victim claimed. The suspect then left the scene.
The man's friends witnessed the altercation, according to the Indian River County Sheriff's Office deputy who attended the scene.
Youngblood took down Ajple's vehicle registration number. Police traced the vehicle back to the suspect's wife.
The manager of Hurricane Grill released the surveillance video footage of the incident. The video "clearly shows" Ajple "slapping the brill of Youngblood's hat and leaning over the gate to spit on him," the affidavit states.
Ajple's wife told police she and her husband saw Youngblood at the bar, and she jokingly told her husband to tell him to go back to Russia. She claimed she didn't see the encounter.
Police contacted Ajple, and he initially refused to make a statement but later told police: "I was just trying to protect you guys because I support law enforcement."
"Trump supporters are communist and racist," he said.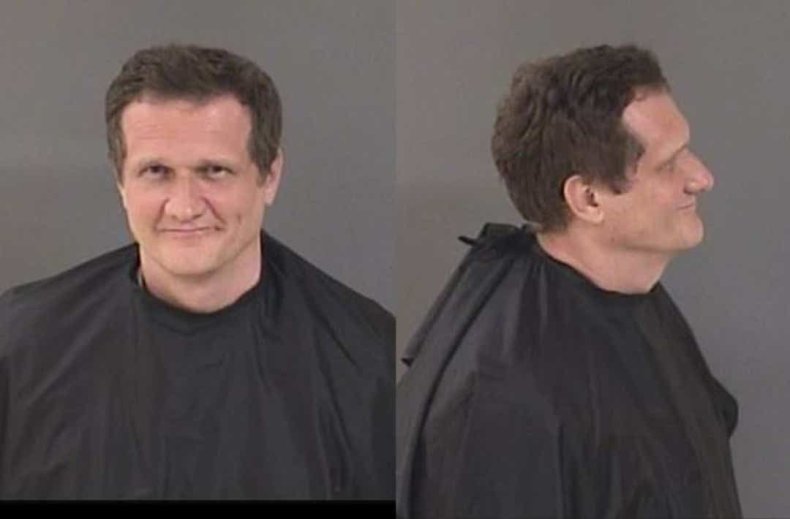 In apparent reference to Youngblood, who is 67-years-old, he also said: "I don't even care that I'm going to jail, this is actually exciting, plus I have more time on this earth than he does anyway, he probably feels so good about himself."
Police arrested Ajple of the 4100 block of Chardonnay Place Southwest. He was taken to Indian River County Jail without incident.
Indian River County Jail documents show Ajple, an engineer, was charged with battery, with his bond set at $500.
Ajple was booked at 12:15 a.m. on Saturday, and released the same day at 2:17 a.m..
The incident comes amid a climate of division in the U.S. as critics of Trump regard the MAGA slogan and the red hats emblazoned with it as a symbol of what they regard as the president's regressive policies on issues such as immigration and LGBT rights.