Florida Man Arrested For Swinging Samurai Sword at Another Man During a Fight Over Trash
A Florida man has been arrested and charged with attempted murder after swinging a samurai sword at another man during a dispute over trash, authorities announced Wednesday.
The Broward County Sheriff's office said Curtis Miller, 54, was caught swinging the sword on home surveillance video July 15 during a fight with another man over a disputed "dump cart." Both men had coveted the cart after rummaging through a trash pile outside a vacant house in Oakland Park, Florida.
Statements made by police claim that the man swung the sword in the direction of the alleged victim, Todd Beavers. Beavers had arrived at the site after spotting the apparently tempting trash pile during an evening jog around the neighborhood.
Beavers noticed Miller rummaging through the pile while stationed near an older white pickup truck. He decided to join in the digging and soon found the black heavy-duty cart. Miller became upset when he saw what the jogger had found, believing he had the "rights" to the cart due to being the first one to dig through the garbage. An argument ensued, but eventually Beavers left the scene with the cart, jogging as he pushed it home.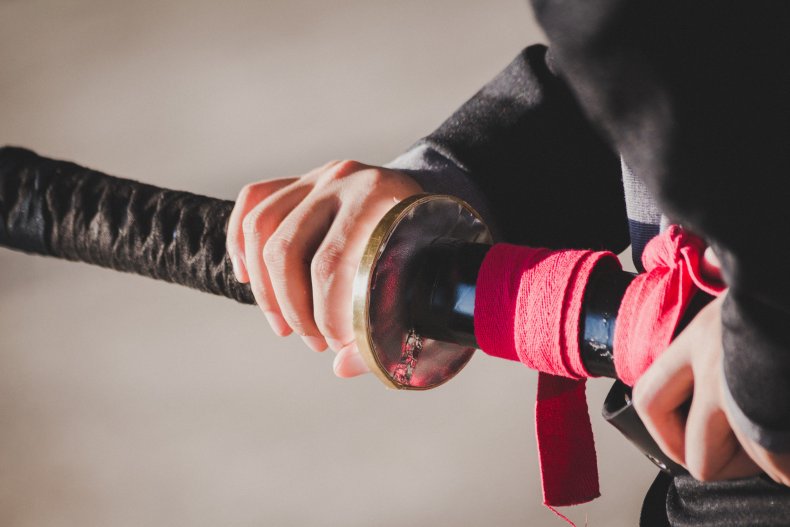 Authorities say the man eventually noticed he was being followed by Miller, and the two men confronted each other in Beavers' front yard. Miller is said to have removed the sword from a long red sheath, lunging it in the direction of the jogger as they struggled over the cart. Beavers then revealed that the incident was being recorded on video. Miller noticed the camera and ran away, while threatening to return.
The alleged victim then went inside his home, leaving the cart behind in the yard. Shortly after that, he noticed an unidentified woman enter his yard and drag the cart away as she yelled insults.
Before being apprehended, Miller had previously been sought by police due to an outstanding warrant for driving without a license.
Swords have been used as a weapon in more than one notable incident this month. Last week, a different man from Florida was arrested after allegedly threatening a pregnant woman with a sword. In that incident, authorities say 43-year-old William Mendenhall, who goes by "Fat Boy," was caught trying to slash the woman after a dispute over a bicycle.
Florida isn't the only place where men have recently been spotted behaving violently with swords. On Long Island, New York last week police were forced to a shoot a 36-year-old man to death after he charged at them with a samurai sword. Officers had arrived on the scene after responding to an altercation between the man and his father.