Florida Man and ex-Jockey Torched Woman's House Before Fleeing in General Lee Car Replica
A Florida man is accused of setting fire to his ex-wife's home following a domestic disturbance before leading police on a high-speed chase in his vehicle painted to resemble the General Lee from The Dukes of Hazzard television show.
Oswald Pereira, 44, of Morriston, Florida, faces several charges including fleeing and attempting to elude law enforcement and three counts of aggravated assault with a deadly weapon following the incident at the house in southwest Marion County on May 14. The State Fire Marshal's Office are also investigating whether to bring forward arson charges against him.
The Marion County Sherriff's Department said they were called to the address after Oswald Pereira began threatening his ex-wife, Marsha Pereira.
Following the argument, Oswald Pereira is alleged to have poured gasoline around the home and set it alight. The suspect was then spotted running away from the blaze after accidentally setting his pants on fire.
"He said he was going to burn this house down, wasn't going to let me have anything," Marsha Pereira told Fox 35 Orlando. "I ran out of the house, he stayed and set it on fire. Then he ran out, he was on fire himself."
Police said Oswald Pereira suffered burns to 15 percent of his body including his legs, arms and back. No one else was injured in the fire, and two dogs were rescued from inside.
"It was horrible. The flames were shooting through the roof," neighbor Shirley Gravelle told Click Orlando. "I feel bad for the children, because on top of everything else they're going through, now they have to worry about their family members and what they're doing."
After allegedly starting the blaze, Oswald Pereira is accused of getting in his Dodge Charger, painted to look like the iconic vehicle from the popular TV series, and escaping the scene.
Deputies chased Oswald Pereira though Marion and Levy counties at speeds of up to 100 miles per hour. He later ditched the Dodge Charger and jumped into a white SUV and continued to flee.
The 44-year-old was eventually captured after he ran into his mobile home in Levy County. Oswald Pereira, a former horse jockey, was sent to Shands Hospital in Gainesville to receive treatment for his burns before he was arrested.
His ex-wife claimed that Oswald Pereira, who was previously charged with aggravated domestic battery, was abusive towards her throughout their marriage.
"We were married 20 years, it's always been abusive," she said. "I never thought he'd want to leave his children homeless."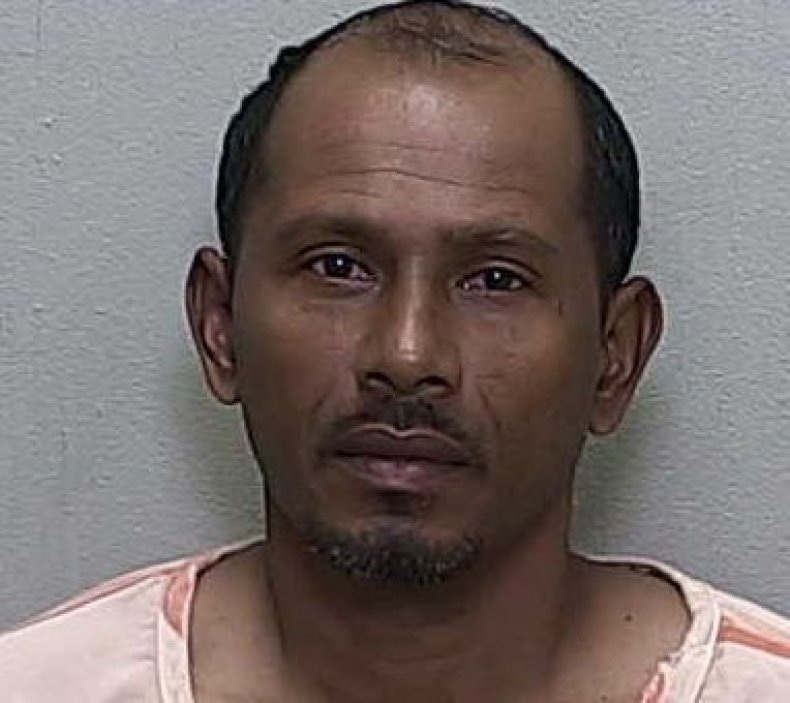 Florida Man and ex-Jockey Torched Woman's House Before Fleeing in General Lee Car Replica | U.S.