Florida Man Bitten By Seven-Foot Alligator in Middle of the Night
A Florida man was attacked by a seven-foot-alligator while walking around a motel on Tuesday after mistaking it for a dog.
At approximately 12:45 a.m., the 49-year-old man was walking through the front garden of a Sarasota County motel when he noticed something in the bushes, WTVT reported.
While there are an estimated 1.3 million alligators living throughout all 67 counties in Florida, experts say serious injuries caused by unprovoked alligator attacks are "rare," with the chances of a Florida resident being seriously injured from an unprovoked alligator attack being roughly 1 in 3.1 million.
Since the Florida Fish and Wildlife Commission (FWC) started tracking human-alligator incidents in 1948, there have been 442 unprovoked bites with 26 resulting in fatalities.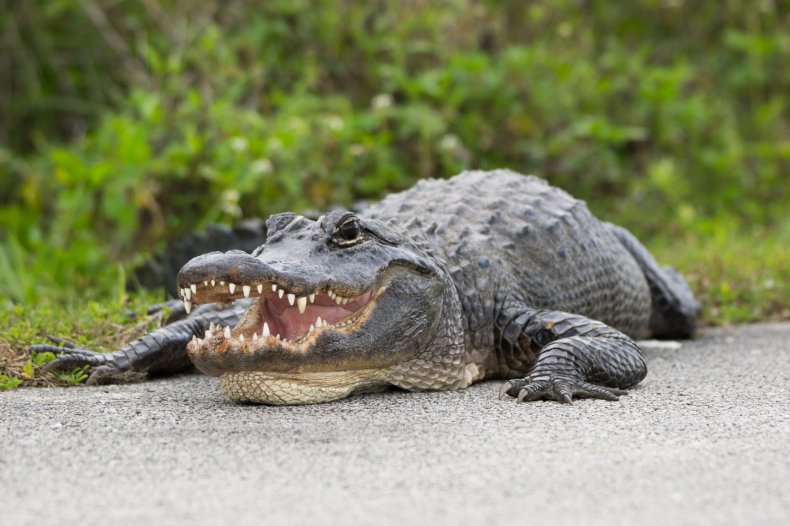 The Sarasota County Sheriff's Office said the man, who has not been publicly identified, was a guest at the motel.
During his midnight stroll, the man allegedly saw the alligator's silhouette running through the bushes but assumed it was a dog with a long leash, which is why he did not move out of the way, according to WFTS-TV.
The gator then approached the man, biting him on the leg and pulling on his muscle tissue, police told WFTS-TV.
When the man escaped the gator's grasp, he said he felt it rip out a chunk of his leg.
Luckily, a Sarasota County deputy was nearby the attack for a separate call when he heard the man's screams, WTVT reported. The deputy contacted EMS and the man was taken to a nearby hospital but has since been released.
According to WFTS-TV, a sergeant was able to capture the alligator which was removed from the scene by an alligator trapper. The FWC said the gator is being transferred to a nearby farm that processes alligators for hide and meat.
In Florida, it is illegal to kill, harass, or feed alligators without an appropriate permit. Individuals who encounter an alligator they think could be dangerous should contact the FWC's Nuisance Alligator Program Hotline at 1-866-FWC-GATOR (392-4286).
Newsweek reached out to the Sarasota County Sheriff's Office for comment.
Police in Largo, Florida, are currently investigating another incident involving a Florida gator: a man was suspected of being killed by an alligator while looking for lost Frisbees.
Another nuisance alligator trapper was called out to a college campus in Florida after an alligator killed a 50-pound pit bull.
In September 2021, an alligator killed and ate a man's pet Labrador-Greyhound in front of him.