Florida Man Breaks Into House and Makes Breakfast, Tells Homeowner 'Go Back To Sleep'
A burglar broke into a home in Florida earlier this week, but rather than grab valuables and leave, he cooked himself breakfast. When the house's occupant discovered the intruder, he told them to "go back to sleep."
It was some time after 4am, when Gavin Crim was caught making his meal in a house in Safety Harbor, about 15 miles from Tampa Bay. Residents called 911 and deputies from the Pinellas County Sheriff's Office arrived to find Crim, 19-year-old Marine, in a swampy marsh behind the home.
According to the arrest report, officers believed Crim may have been under the influence of alcohol.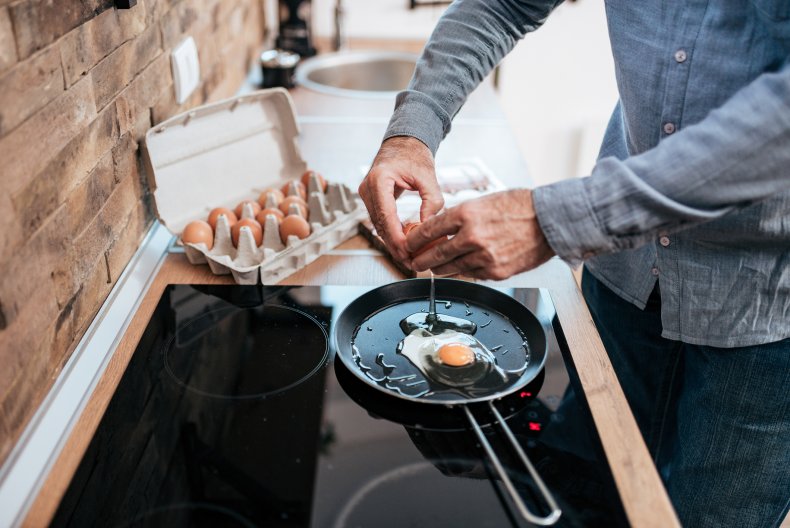 Conscientious burglars are a bit of a thing in Florida this week: On Monday, a woman in Pensicola returned home to discover a man holding a purple Swiffer mop and attempting to clean up her house.
Shortly after 3am, police responded to a call from a woman claiming a strange man was in the house. The woman, who requested anonymity, said she had barricaded herself in a back room.
When officers arrived, they found Tyler Matthew Smith still holding a Swiffer. Apparently Smith, 33, had already swept up glass he broke to get into the home into a dustpan. "It appeared Smith had attempted to clean up the mess," reads the Pensacola Police Department report.
Smith, who has been charged with burglary and larceny before, suffers from PTSD and a traumatic brain injury, according to his mother. She theorized he was looking for for his uncle's house.
Charged with criminal mischief and burglary, Smith remains in Escambia County jail.
Last Friday, a barefoot man was caught breaking into Taylor Swift's beachfront Rhode Island mansion while she wasn't there. Police arrested 26-year-old Richard McEwan, who reportedly told authorities he was always taught by his parents to take his shoes off when entering someone's home.
And back in May, a Massachusetts family discovered an intruder had broken in and cleaned their house.
"It was terrifying just to know someone was in your house," father Nate Roman told WCVB. "They scrubbed everything down, did the shower, did the toilet. Nothing has been taken, other than just being rearranged, cleaned, put away and put straight."
The suspects also made the beds, organized children's toys and left toilet paper shaped like origami roses in the bathroom. Roman's son's room, which was messy that morning, was "immaculate" and smelled of cleaning products.
Roman said the kitchen was the only room left untouched.