Florida Man Breaks Senior Citizen's Rib, Steals His Golf Balls
A Marion County, Florida, man has been arrested and charged with aggravated battery on a person 65 or older after allegedly beating an elderly man after having stolen golf balls from him after a dispute at a country club golf course, according to WKMG.
The victim, 67, was found suffering from a severely blackened eye, a broken rib, a number of bruises and injuries to his mouth by police called to Stone Creek Golf Club.
According to testimony from the victim given to police, the alleged assailant, Tyler Dearden, 22, had been taking golf balls out of the bucket being used by the victim at the driving range. Dearden responded to the victim's request that he stop by swearing and yelling at him after the victim approached him.
When the victim headed to the club's pro shop to report the incident, Dearden trailed him inside—and then followed him back to the driving range.
After claiming he wished to apologize, according to witnesses, Dearden instead punched the victim, which knocked him to the ground. Dearden then began to repeatedly punch and kick the victim in the face and chest.
The victim was taken to the hospital for treatment, where he later received nine stitches.
Dearden later claimed he was defending himself from harm because the elderly man had pointed a golf club at him, according to an interview given at home to police officers reported in the arrest affidavit. He also allegedly told them that he was upset that he had been kicked out of the golf club, as he lives within the community in which it is situated.
Dearden was subsequently arrested. He is being held on a $10,000 bond at the Marion County jail. There is no word of when his first court appearance will take place.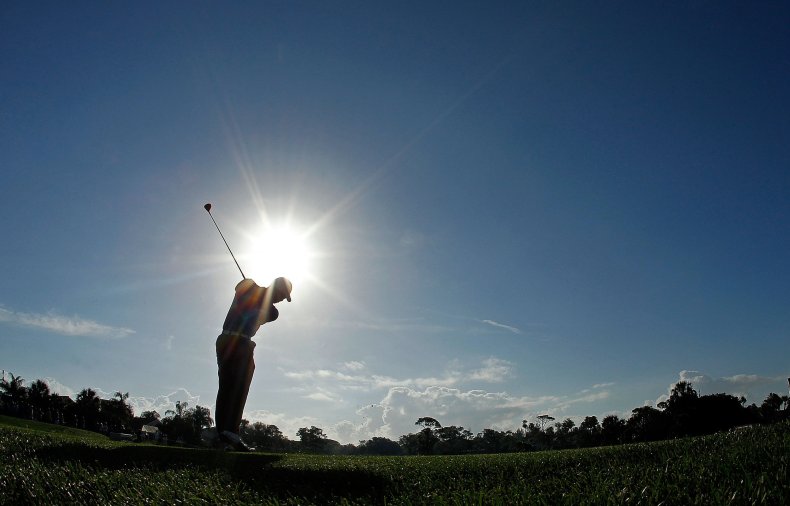 Stone Creek Golf Club isn't the only golf club to see a crime on its grounds past months.
In August, a woman in Lacey, Washington, drove her car onto the course of the Indian Summer Golf and Country club. Ramming her vehicle into two golf carts, she subsequently began "doing doughnuts"—or driving in circles in order to mar the grass—on the course.
Dacia Gilmore, 30, allegedly gunned her engine aimed her car at golfers who told her to leave.
When they didn't move, Gilmore then got out of her car and swung a pair of gardening shears in the direction of the golfers. She then fled the scene on foot.
"It actually took approximately five of our officers to finally subdue her and take her into custody," said Sargent Jaime Newcomb of the Lacey Police Department to KIRO. "At the time, it was pretty apparent that she was undergoing some sort of mental health issue and was not speaking clearly and her thoughts weren't organized."
No one was hurt, and the course and its property suffered minimal damage.