Florida Man Broke Into Terrified 77-year-old Woman's Home, Put on Her Clothing and Asked for a Drink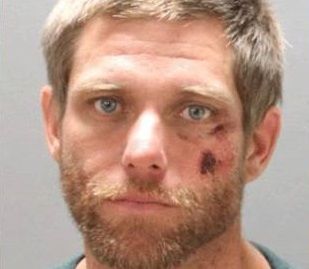 A Florida man broke into an elderly woman's home, stole her belongings, and wore her clothes, according to police.
The 77-year-old victim, who was not named, returned to her home in Jacksonville, northeast Florida, on Friday and found a man in her property, CBS-Affiliate Actions News Jax reported citing police. The suspect, Kristopher Patterson, was wearing her clothes and had taken a shower.
The suspect broke into the woman's home as he was being pursued by a police officer, investigators told News 4 Jax. Patterson is thought to have worn the woman's clothes in order to hide his identity from the police officer who lost him in the chase.
When he was discovered by the victim, Patterson told her he was hiding from police, according to News 4 Jax.
Patterson said he didn't intend to harm his victim, and asked if he could have a drink from her fridge. He then took her purse from her shoulder, as well as her car keys, Action News Jax reported. The victim's car was a Cadillac, according to News 4 Jax.
A struggle ensued between Patterson and the woman, as she begged him not to steal her purse. She told him "Please don't do this," according to Action News Jax. The woman told the broadcaster she found the ordeal terrifying.
While Patterson was in the home, the victim said he also stole cash, one of her late husband's watches, as well as an air mattress. Patterson also asked permission to take shampoo and soap, and returned one of her late husband's items at the property.
Patterson then made off in the woman's car, and headed to an IKEA store, according to Action News Jax. The location of the IKEA was unclear. In the parking lot of the Ikea, the suspect took a tag from a vehicle, and placed it on the woman's stolen car. Next, Patterson drove to a Walmart store on Phillips Highway.
That evening, police received a call from shoppers that a man had been discovered slumped at the wheel of a car at the Walmart.
Police arrived at the scene. Patterson initially struggled with police, but was eventually arrested.
The victim told Action News Jax the suspect did drugs in her car. Some of her stolen items were returned, according to the outlet.
Jacksonville Sheriff's Office Department of Corrections documents show Patterson was charged with petit theft of items less than $100, with a bond of $503. He also faces charges of burglary of an occupied dwelling and a $50,003 bond; resisting an office without violence to his or her person carrying a $2,503 bond; and carjacking without a firearm or deadly weapon with a $50,003 bond. His total bond was set at $103,012.
Patterson is due in court on June 17, according to Actions News Jax.