Florida Man Crashes Boat Into Marina in Viral Video
A Florida man who smashed his boat into a marina while allegedly drunk has been arrested on charges of boating under the influence.
Brendan Sheridan, 32, was arrested and charged after police say he struck other boats at a Sarasota marina on Saturday.
In the viral video, he can be seen pulling into the Bayfront Park Marina in Sarasota around midday on Saturday, reversing at high speed.
The boat makes an abrupt stop and sits idly for a few seconds as a man can be heard commenting, "Someone doesn't know what he's doing."
The boat suddenly launches back into gear, swings around and beelines for the marina.
Making a sudden sharp turn and swinging wildly out of control, the bow of the boat crashes into a docked yacht in its path.
The unruly helmsman, seen from the top deck, proceeds to plough into wooden pilings, sending debris flying into the water.
The sounds of crushing metal and plastic can be heard as a passerby shrieks in shock.
"Someone needs to get this idiot off the boat," the man filming the incident can be heard saying.
One woman can be seen racing down to the marina to survey the scene.
In another clip taken from the water and at an opposite angle, the boat can be seen appearing to make a 90-degree turn into its berth.
Police and fire rescue were seen arriving at the scene shortly after the crash.
Kayla McLaughlin was at the marina at the time and filmed the incident, telling ABC7 she began recording because the scene seemed too unbelievable to be real.
"It was just coming for all the boats and everyone on the boat next to him screaming 'Shut it off, shut it off,'" she said. "And a couple of minutes later he goes right into the boats."
Sheridan was arrested and charged with three counts of boating while under the influence with property damages, Sarasota Police said.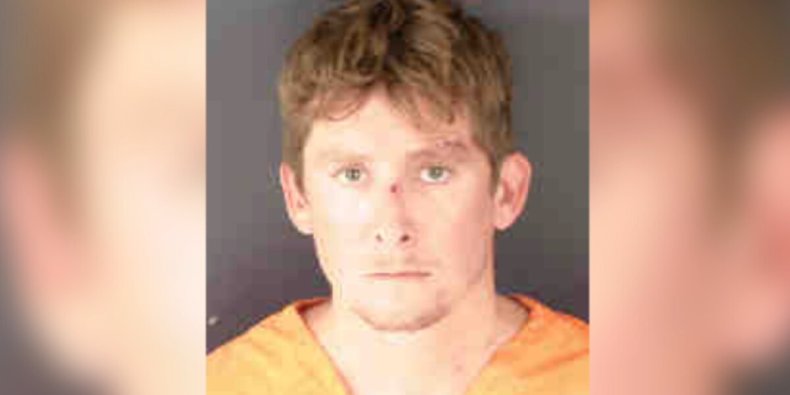 He bonded out of jail at 1:45 a.m. Sunday, 10 Tampa Bay reported.
His arrest report, seen by Newsweek, lists the 32-year-old's occupation as a day trader.
The extent or cost of the damage to the other vessels is not yet known.
Newsweek has contacted the Sarasota Police Department for comment.