Florida Man Allegedly Uses Tractor to Bury Girlfriend's Car in Dirt—While She's Still In It
A Florida man was charged with dumping tons of dirt into his girlfriend's car while she was still in it.
According to police, Hunter Mills asked his girlfriend to meet him near Phil-dirt Inc., a construction company in Crestview where he was employed. After she arrived, Mills became agitated the unnamed woman wouldn't answer his questions. He then reportedly used a tractor to pour dirt onto the roof of the 2010 Cadillac sedan she had arrived in.
The car, it turned out, belonged to someone else.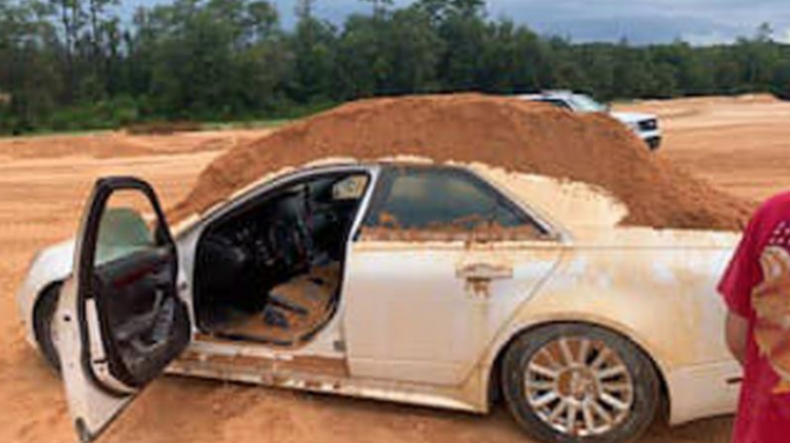 Mill's girlfriend was not injured in the incident but as the vehicle's windows were open, dirt filled into the center console, air vents, and open window. He was charged with felony criminal mischief resulting in more than $1,000 worth of damages.
Located in Florida's panhandle, between Tallahassee and Mobile, Crestview is the capital seat of Okaloosa County. In 2010, it had a population of about 21,000 people.
It's not the first time this summer authorities have seen cars buried in the Southeast: Garrett Young made news in July when he parked his 2013 Dodge Charger in the sand on Dauphin Island, Alabama. Young's car sank into the sand and, eventually, strong surf kicked up by the approach of Tropical Storm Barry washed over the vehicle and filled it with seawater.
Young called a tow truck but wasn't able to get the car out .
"After an hour of watching the sand get higher and higher and higher, you can't do much and it's just helpless," he told Fox 10.
Earlier in August, an Indian man was accused of driving his brand-new BMW Series 3 into a canal because it wasn't the Jaguar he hoped to receive from his parents.
The car, which retails for more than $49,000, was allegedly a gift for his birthday two months ago.