Florida Man Discovers Frogs Hiding in Wind Chimes Ahead of Hurricane Dorian
As Florida braced for the looming Hurricane Dorian this week, a man from the state found a group of frogs apparently taking shelter from the storm in a set of wind chimes in his backyard.
Patrick Smith, 30, a resident of Belle Isle, told Newsweek that he found the frogs on Monday afternoon as he "went to hang the chimes in the laundry room." I noticed the wind chimes "sounded a bit dull, and looked inside to find the frogs. We found them a safe place inside the thick palm fronds over our backyard pond," he said.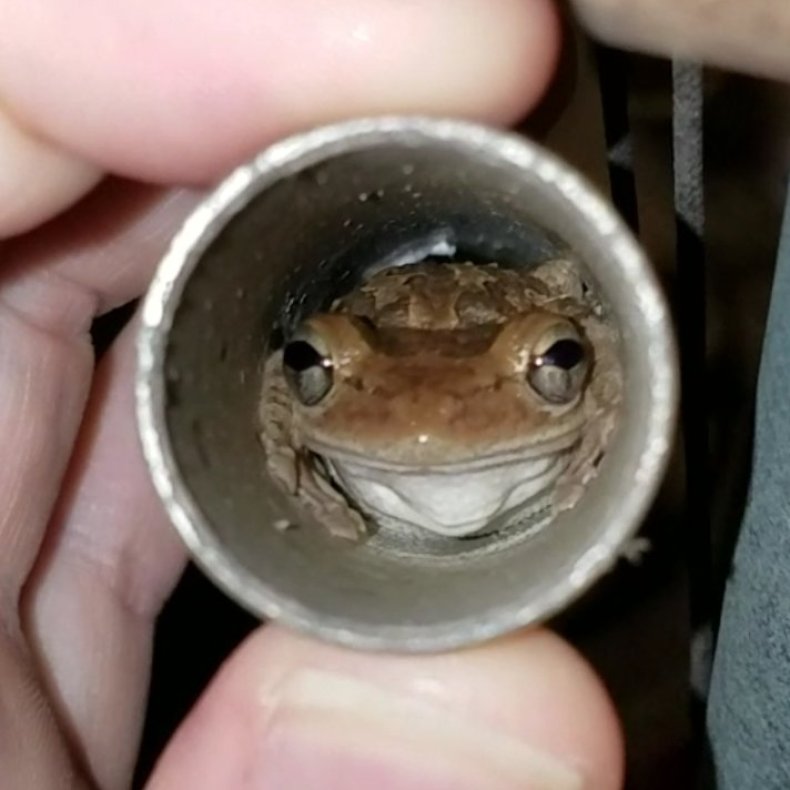 Although Smith noted that "these tree frogs like to sleep during the day in dark, secluded places," he also said that he believed they were taking refuge from the looming storm. "We had never seen so many frogs inside the chimes at once," he added.
In a series of tweets, Smith said that he made the discovery when he was putting the wind chimes away in anticipation of the storm, which began threatening the northeast coast of Florida on Tuesday after it devastated the Bahamas over the weekend.
"So I went to put away my wind chimes for #HurricaneDorian, and...," @PooltoyWolf tweeted on Tuesday, alongside a video of the frogs. Smith also subsequently shared photos of the amphibians in the wind chimes and assured the public that the frogs are all "safe and accounted for!"
After pummelling the Bahamas as a Category 5 and 4 storm, the slow-moving Hurricane Dorian has finally started it's highly-anticipated march towards the Southeast coast, according to the Weather Channel.
Around 5 p.m. ET on Tuesday, the National Hurricane Center released an update about Dorian inching closer to Florida's coast. "Winds increasing along portions of the Florida east coast," the new advisory said.
Dorian has been downgraded to a Category 2 hurricane as its wind intensity wound down from it's peak on Sunday. However, the storm, which reportedly killed at least five in the Bahamas and destroyed more than 13,000 homes in one group of islands alone, is still expected to cause significant damage to Florida's Atlantic coast as well as various areas in Georgia, North Carolina and South Carolina later this week.
A team of 39 search and rescue members from various areas in Mississippi arrived in Florida over the weekend to assist responders in the region, according to the state's emergency management agency.