Florida Man High on Meth, Cocaine Carjacked Mail Truck, Tried to Run Down Chasing Deputies Before Crashing
A Florida man who claimed to be high on meth and cocaine has been arrested after trying to hit police officers with a carjacked mail van—then flipping the vehicle.
Jesse Estep, 29, is now facing criminal charges in multiple Florida counties after leading deputies on a pursuit in a Postal Service truck stolen in Volusia County on Saturday afternoon. The suspect crossed into Flagler County on I-95 northbound around 4:30 p.m., the sheriff's office said.
The police chase was sparked after a mail carrier in Holly Hill called 911 to report that a man had threatened her with mace and demanded the keys to her truck, WFTV reported.
After taking jurisdiction over the chase in the afternoon, deputies from the Flagler County Sheriff's Office said they exited their patrol cars and deployed stop sticks to blow the tires of the truck, which was allegedly driving recklessly and ignoring marked police vehicles in pursuit.
It is alleged the suspect then "intentionally swerved and drove the mail truck directly toward" one deputy who was at the side of the I-95. After missing, Estep allegedly served to the other side of the road and attempted to intentionally crash into another officer placing stop sticks.
Police said the back tire of the hijacked mail truck hit the deployed obstacle, which caused the vehicle to lose control, crash into a guardrail at mile marker 280 and flip. Mobile video footage which showed the aftermath of the suspect's road collision was later published by WESH.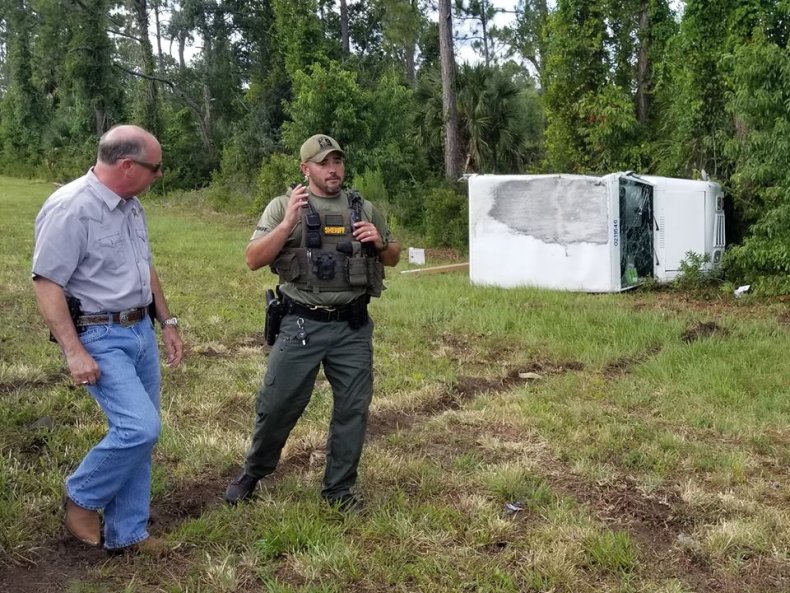 Deputies took the driver—who had been alone in the van with a slew of customer mail—into custody and transported him to Advent Health Palm Coast for a medical evaluation.
"The suspect immediately told deputies that he was high on meth and cocaine," the Flagler County sheriff, Rick Staly, said in a statement. "It is a miracle that no deputies, police officers, or other travelers on the roadway were hurt during the reckless driving of this suspect.
"I'm grateful that his efforts to injure my deputies failed. Criminals need to learn that if you commit crimes in Flagler County you will end up in the Green Roof Inn where you belong." Staly added: "This is another great example of our agencies working together."
Flagler County inmate records state Estep has been charged with grand theft auto, aggravated fleeing & eluding and two counts of aggravated assault on a law enforcement officer.
Police said: "He will be transported to the Sheriff Perry Hall Inmate Detention Facility once medically cleared by the hospital. He faces charges in Volusia County. The Postal Service responded to take possession of their vehicle. Federal charges may be pending."
Inmate records showed that Estep has a criminal history. He was detained by Flagler County police officers in January this year on an out of county arrest warrant. The records also describe charges filed in Bunnell city in 2012, where the suspect's home address is listed, including grand theft auto, criminal mischief and battery.