Florida Man Flying Trump Flag Accused of Vandalizing Pride Intersection Doing 'Burnout'
A Florida man is accused of vandalizing LGBTQ pride artwork in a local street by doing a "burnout" with his white Chevy truck while flying a flag supporting former President Donald Trump. The shocking incident was captured on a cellphone camera.
Police arrested Alexander Jerich, 20, after he turned himself in Thursday following community outcry of his destruction of the "pedestrian-friendly" streetscape on Monday during National Pride Month, a Delray Beach Police report said. The colorful street installation was just unveiled Saturday in Delray Beach, Florida, a city "that is an ally to the LGBTQ community."
"Just two days after we joyously celebrated the ribbon cutting of the Delray Beach Pride Streetscape, a young man from a nearby town callously vandalized this symbol of unity and inclusion," Delray Beach Mayor Shelly Petrolia said in a statement to Newsweek.
"When I first saw the video, I was just taken aback," Rand Hoch, president of the Palm Beach County Human Rights Council (PBCHRC), told Newsweek. His organization alongside the AIDS Healthcare Foundation paid $16,000 for the artwork's installment.
"It was hard. I must say I was somewhat hurt. We've been working with the LGBTQ community and the city, governments and county governments for decades," Hoch said, who pointed out he was Florida's first openly gay judge in the 1990s.
Jerich has been charged with criminal mischief over $1,000, reckless driving, and evidence of prejudice, a felony enhancement, the police report said.
Hoch said that Delray Beach has many senior citizens who are openly LGBTQ and that hundreds of people came out Saturday to celebrate the new rainbow streetscape.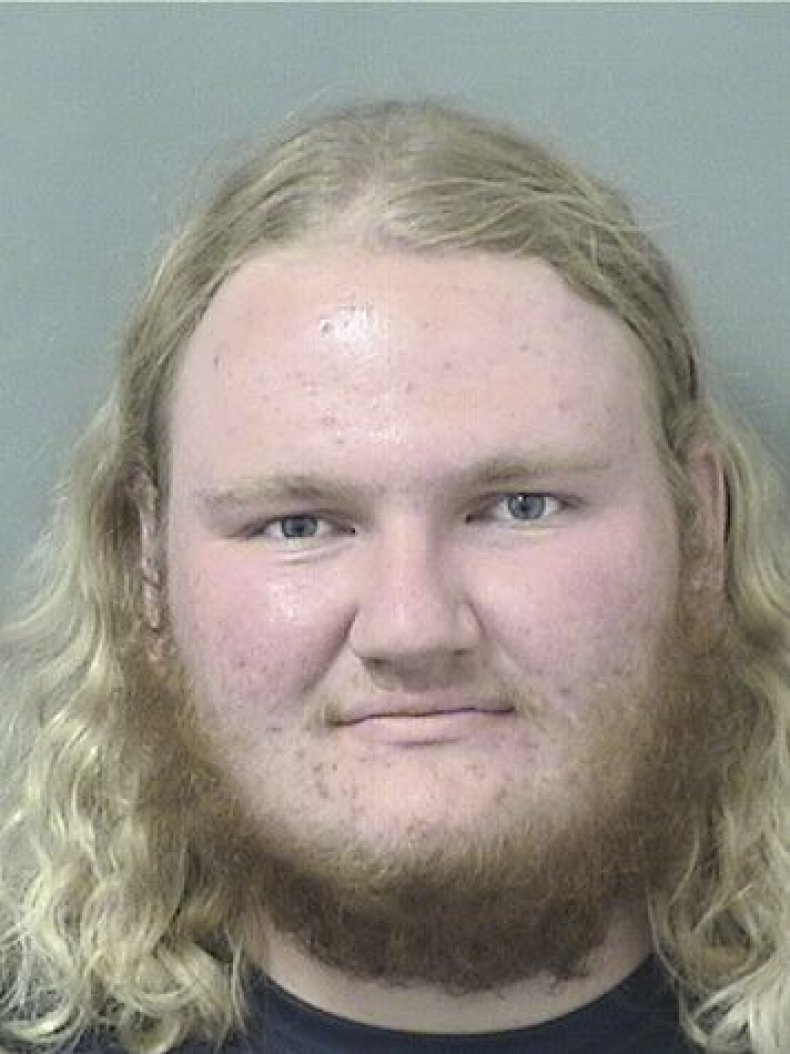 "We're now living in an age where people feel empowered to go out and deface a synagogue, or a mosque or this week, a memorial to the LGBTQ pride community," he said.
"Thankfully the Delray Beach Police Department was able to identify and arrest him just days after the crime was committed," Petrolia said. "While we were saddened by his actions, our city remains committed to equality. We will continue to support residents and welcome visitors, regardless of gender, race or sexual orientation."
Police first noticed the painted streetscape of Northeast First Street and Northeast Second Avenue was left with two 15-foot black tire skid marks from Jerich's vehicle on Tuesday. That same day, an unnamed witness contacted police and provided their cellphone footage of the vandalism.
"The video shows that the driver willfully drove the vehicle with disregard for the safety of any other persons or property," police said.
Another witness named Dave Armstrong came forward with additional information of Jerich's vehicle "burn out."
Armstrong said that on Monday, Trump's 75th birthday, he attended a "President Trump Birthday Rally," where 30 vehicles met at the Delray Beach Marketplace and a driving route was provided, according to the report.
He was two cars ahead of Jerich at the now vandalized street crossing and claimed that he heard a male scream to Jerich something along the lines of "Adam, tear up that gay intersection."
Armstrong "continued to express that the vandalism affected him since the time of the incident and felt he had to come forward, not only as a member of the community but as a gay man," according to the report.
After an investigation, Jerich was identified and contacted by police. He agreed to turn himself in but did not want to give a statement.
The Delray Beach Police Department declined to provide further comments to Newsweek.
Jerich was taken to the Palm Beach County Jail Thursday and it is unknown when he will appear before a judge, The Palm Beach Post reported.
He was eventually released later Thursday, according to the Palm Beach County Sheriff's Office.
"AHF is saddened to learn that this beautiful street art celebrating Pride and the entire community in Delray Beach was ruined by a thoughtless vandal doing burnouts and circles with his truck," said Ged Kenslea, senior communications director of the AIDS Healthcare Foundation.
"We are grateful he at least had the conscience of mind to turn himself in to the authorities to face the consequences. AHF would like to see the artwork repaired or reinstalled and feel it should remain in place beyond June, the official observation month of Prides everywhere."
UPDATE 06/18/21 - 3:50 p.m. This story was updated to include comments from the AIDS Healthcare Foundation.