Florida Man Foots Utility Bill for 114 Neighbors Ahead of Pandemic Christmas
Michael Esmond, the owner of Gulf Breeze Pools & Spas in Florida, spread the holiday spirit in December by paying off some past due utility bills for 114 families in the area.
Esmond performed a similar act of generosity in 2019 when he donated $4,600, which paid the utility bills for 36 homes in the town of Gulf Breeze. This year, Esmond was able to increase the number of families he's helped to 114, with a donation of $7,614.50.
In an interview with WEAR, Esmond said he noticed the due date on some of the utility bills was the day after Christmas "and that made me think about maybe people that couldn't afford to pay their bill, but they might go without gas or water during the Christmas holidays."
Recipients of Esmond's generosity will be informed by greeting cards that read in part, "You can rest easier this holiday season knowing that you have one less bill to pay."
Esmond said he made the decision because of an event in his past. During one of the coldest winters on record during the 1980s, Esmond's gas was disconnected because he was having difficulty paying his bills.
"We didn't have any heat," Esmond said. "We had ice on the windows in the inside of that house."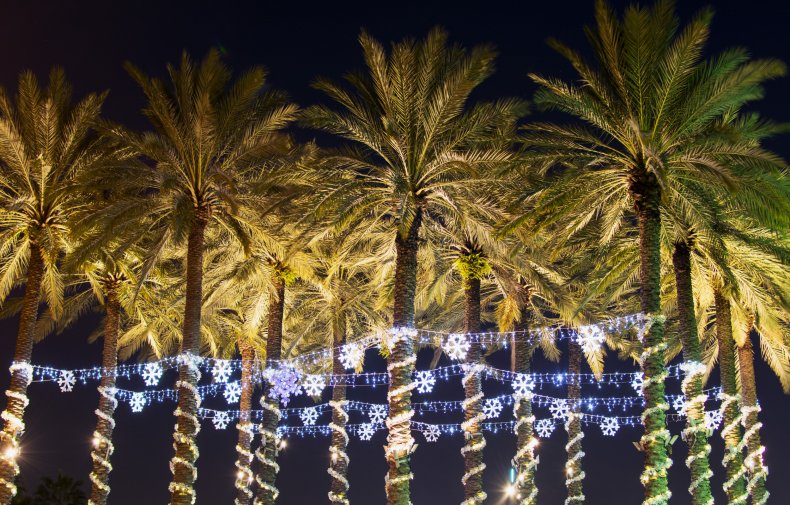 While Esmond is pleased to be able to help his neighbors, he hasn't decided what he will do for the 2021 holidays.
"I'll figure out something for next year," Esmond said. "It won't be this, but I'll figure out something."
In a statement sent to Newsweek on Tuesday, Gulf Breeze Mayor Cherry Fitch called Esmond's donation "a generous and unexpected gift for the community."
"Many Gulf Breeze residents are experiencing hardships due to COVID-19, Hurricane Sally and the closure of the three-mile bridge that connects us to Pensacola where most residents work," Fitch said. "For the second year, we are so grateful to Mr. Esmond for his donation, a tremendous blessing for this time of year that serves as an inspiration to us all."
According to Gulf Breeze Utility Billing Supervisor Joanne Oliver, residents are being given a longer-than-usual grace period on their utility bills this year because of the COVID-19 pandemic.
"We're not disconnecting them for nonpayment until they are more than 60 days past due," Oliver told CNN in December.
As of December 14, the Florida Department of Health had reported 1,134,383 confirmed cases of COVID-19, with 20,003 fatalities attributable to the virus.
On Monday, the first round of a COVID-19 vaccine was delivered to Florida. During a news conference at Tampa General Hospital, Florida Governor Ron DeSantis described the vaccine as a "game changer."
"This is a really, really significant milestone in terms of combating the coronavirus pandemic," DeSantis said. "Today, we will have shots going in arms. We will have health care workers getting vaccinated." DeSantis said that roughly 179,000 doses of the vaccine developed by the pharmaceutical firms Pfizer and BioNTech would be delivered to Florida by Friday.
The U.S. Food and Drug Administration (FDA) granted an emergency use authorization to the vaccine on Friday, making it the first vaccine permitted U.S. distribution. The FDA is scheduled to hold a discussion on Thursday about the distribution of a separate COVID-19 vaccine manufactured by Moderna.
Both vaccines are designed to be administered in 2 separate doses roughly 4 weeks apart.
Updated 12/15/2020 10:30 p.m. EST: This story has been updated with a statement from Gulf Breeze Mayor Cherry Fitch.