Florida Man Found With Explosive Device Near Rally for 1/6 Riot Suspect, Police Say
Authorities in Florida arrested 22-year-old Garrett Smith Thursday morning after finding him with a homemade explosive device at a rally in support of a suspect in the January 6 Capitol riot, police said.
Describing Smith as a "sleeper," Pinellas County Sheriff Bob Gualtieri said the incident is particularly worrisome. Detectives said they don't know what Smith intended to do with the explosives. He has no criminal history, there is no intelligence from other agencies and he has no social media, Gualtieri said at a press conference.
"Those are the ones that are most concerning and the hardest to figure out," Gualtieri said.
Gualtieri added Friday that deputies spotted Smith, who lives with his parents in Oldsmar, running away from the protest, "as if fleeing something." He was wearing "all black clothing, a face covering, and carrying a black backpack," according to the sheriff's office.
"Something caused him to want to get out of there quickly, but I don't know what it is," said Gualtieri.
Deputies arrested Smith on charges of loitering and prowling. While taking him into custody, they searched his backpack, discovering an explosive device, police said. Deputies did not find any other such devices after searching the area.
Bomb technicians confirmed the device was indeed an explosive, and deputies found M-80 fireworks in his car, said Gualtieri. After obtaining a search warrant for Smith's home, police said, they found more explosives including a "pipe-type" and "hand grenade-type" along with nails and duct tape. Smith has been charged with possessing a destructive device.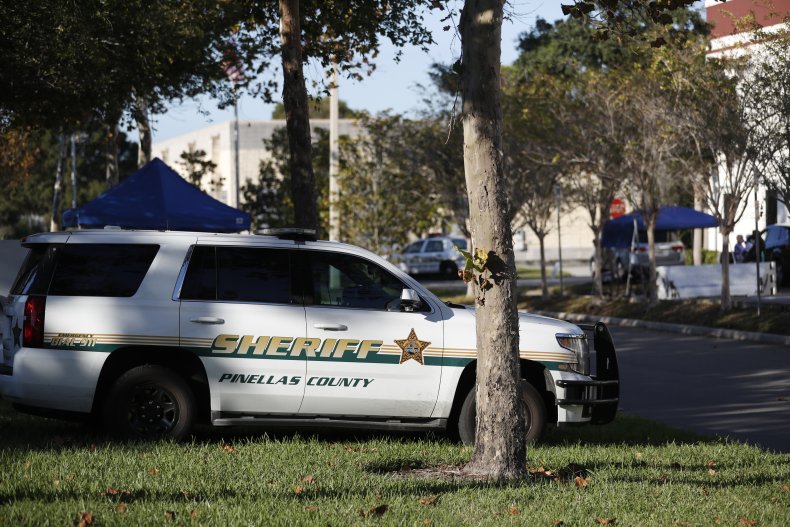 "It could have been very destructive," said Gualtieri. "He could have hurt a lot of people depending on the number of nails or whatever other things are in the explosive devices. Because that's what they do: They pack it with those and it goes off and people are hit by it."
Smith was apprehended at a protest in support of Jeremy Brown, who is currently being held in the Pinellas County Jail on federal charges stemming from the January 6 riot at the U.S. Capitol last year. Brown is being held without bond pending trial.
Brown is a former U.S. Army Special Forces soldier, congressional candidate and member of Oath Keepers, a far-right group, reports Orlando Weekly. Arrested in September, he faces charges of entering a restricted building and disrupting government business.
Gualtieri said Smith hasn't been forthcoming and deputies don't know his political leanings, including if he was in support of the protest or against it. But Gualtieri said Smith had traveled recently to Portland, Oregon, and he was wearing the all-black clothing favored by far-left protesters in the city.
Gualtieri said Smith was carrying a handwritten document labeled "direct action checklist" that included black clothing, armor, pepper spray, smoke rockets, flammable rags and other items.
"Where was he going to go next? What was he going to do?" said Gualtieri. "Of course, we don't know the answer to that, but he had all the equipment to cause destruction."
Smith is also being held in the Pinellas County Jail. His bond has been set at $300,250.
Smith's legal representation is unclear. The sheriff's office could not be reached Friday evening.