Florida Man Frightens Neighbors by Building Backyard Gun Range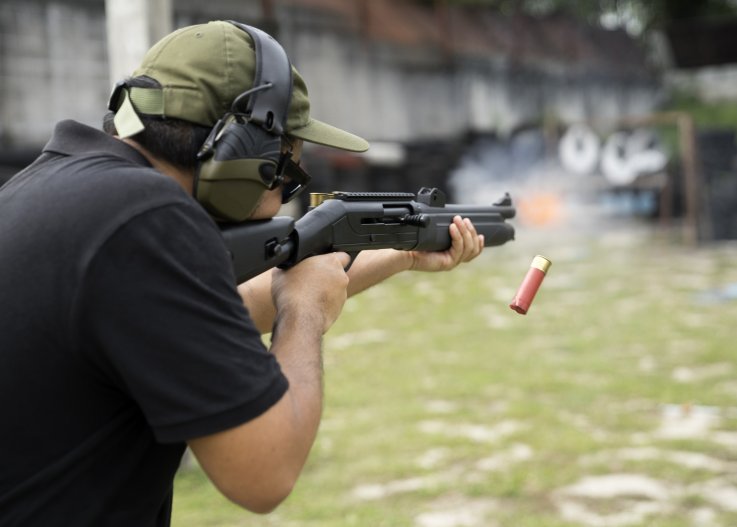 A Florida man has alarmed neighbors by building a private shooting range in his backyard, only feet away from other homes.
In a Friday report, neighbor Misty Cintron told WFTS that her family began to fear for their safety two weeks ago when they noticed their neighbor building a gun range near their home in rural Weeki Wachi, Florida. Although the range appears to be technically legal in the state, Cintron said "I think a sane person would not even remotely consider doing this."
Florida law allows homeowners to build and use a shooting range as long as their land extends beyond an acre. Cintron's property is less than an acre, so shooting a weapon from her property would be illegal. However, her neighbor is legally allowed to build the range and fire weapons because he is on a larger piece of land, regardless of whether or not the fears his neighbors might have for their safety are valid.
"The fact that he can shoot at me, and I can't shoot at him is not equal protection," said Cintron to the outlet. "The fact that there is not a clear distance, and he is shooting military-grade weapons that are not accessible to the average person in Florida, that's not equal protection. My local enforcement is not able to fully protect me, so they are violating my right my civil rights."
The man claims the range poses no threat to his neighbors. Cintron disagrees, and suggests that bullets and shrapnel could easily make it onto her property. The barrier at the end of the gun range is reportedly over 20 feet high, although it is only feet from neighboring property. The unnamed man, who is said to be a legally licensed commercial gun dealer, claims he plans to make improvements to the barrier.
"Safety, safety, safety, is my top priority," the man told WFTS. "I'm not even close to being done yet."
Cintron says her family asked the man to move the range in a direction that wasn't pointing towards her family's home, but he refused. The man claims that he offered to move it "slightly to the right."
"Originally, we said you know what if you move it that way, I'd feel a lot more comfortable because you are not aiming it at my house and there is nobody that lives that way," said Cintron. "His response was, you know, this is his dream... I'm all for people's dreams but I have a dream too, you know. I want to see my children grow up, my grandchildren, my dreams don't affect other people. This is very unreasonable. If you are so comfortable, why don't you turn it around and face it toward your house? Oh, I just can't do that. He gave every excuse."
Due to the state's relaxed gun laws, residential shooting ranges are relatively common in Florida. Neighbors are often less than pleased to discover one has been built close their property, but there appears to be no recourse for removing them under current law. Residents in Golden Gate Estate, Florida launched a petition attempting to change the law in January, after several homes were struck by stray bullets and woman was shot in the arm.
Florida Man Frightens Neighbors by Building Backyard Gun Range | News