Florida Man Gropes Fingerprint Technician While Being Booked For Disorderly Conduct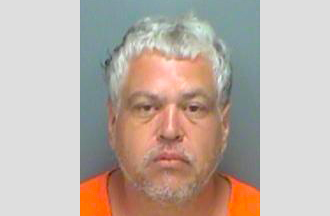 A Florida man allegedly groped a fingerprint technician last week after he was arrested for disorderly conduct at a bar in Pinellas Park, where he yelled sexually aggressive comments at the bar's female proprietor.
Jack Dylan Evans, 44, was arrested on Wednesday for allegedly yelling at a female staffer at the Down The Hatch bar in Pinellas Park about his intentions to have sex with her. Later, Evans continued his disorderly behavior by groping the buttocks of the female fingerprint technician at Pinellas County jail who was processing him, according to a police report.
Police were called to the bar around 5.30 p.m. on Wednesday after a victim claimed Evans had been harassing her. The accused yelled "obscenities and told the victim he wanted to have sex with her despite her telling him no and asking him to leave her business," according to the report. Evans continued to make sexual comments after authorities arrived at the scene.
After being transport to Pinella County jail, authorities booked Evans on a misdemeanor charge.
While Evans was being processed by fingerprint technician Dena Pham at around 10 p.m. that evening, he allegedly groped her buttocks, claiming that he had done so because "she was sexy," according to a criminal complaint. The defendant "reaching with his left hand down to the victim's right buttocks area and rubbed the area as the victim was fingerprinting the subject as part of the booking process," the complaint said.
Police filed a second charge, battery on a Pinellas County Sheriff's Office employee, against Evans after Pham identified him as her perpetrator, corroborated by surveillance footage. The felony charge carries a $5,000 bond.
Authorities order Evans to keep away from Down The Hatch bar. The accused has been convicted for trespassing twice this year.
The Pinellas County Sheriff's Office did not immediately respond to Newsweek's request for comment.
Pinellas Park, a city located in central Pinellas County, Florida, has one of the highest general crime rates — 50 per one thousand residents — in the U.S., according to data on NeighborhoodScout. More than 90 percent of communities in Florida have crime rates lower than Pinella County, whose 52,854 residents have a one in 20 chance of being a victim of a violent or property crime. One in 231 people will become a victim of a violent attack, such as armed robbery, aggravated assault, rape or murder, in the region.