Helicopter Chases Florida Man Fleeing Crime Scene by Running Into the Sea
A helicopter was called to assist in capturing a suspect who ran into the ocean to avoid being caught, according to the Tampa Police Department.
The department shared a post on their Facebook page showing a man standing in waist-high water with his arms in the air as the aircraft hovered above him.
"ARRESTED. You can't run from the chopper," the photo, posted on Sunday, was captioned.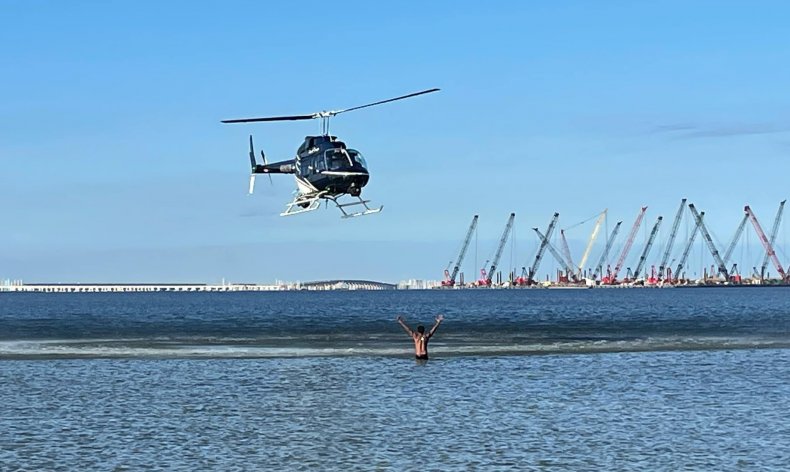 The post, which amassed more than 1,500 likes, went into further detail, saying: "Around 8 am Saturday, October 1, a woman was robbed in the parking lot of a hotel on N Westshore Blvd when a suspect snatched her wallet and ran. Witnesses saw him flee to Cypress Pointe Beach, which is where officers located him.
"To avoid an arrest, he entered the water and began to swim about 200' offshore. After several minutes, Dewayne Dean, 32, surrendered and was taken into custody."
The Tampa Police Department said on Facebook that the helicopter-assisted arrest of the "fleeing robbery suspect" was a joint operation between its aviation, marine, dive and patrol units.
Commenting on the photo, one Facebook user said: "He thought he was playing GTA5," referring to the video game Grand Theft Auto V.
Another commenter wrote: "Lots of wind from that chopper! Nice job."
While a third posted: "Well he certainly didn't think that one through."
Dean faces charges of robbery by sudden snatching and resisting an officer without violence, according to Hillsborough County Jail records. The suspect was also arrested for warrants relating to possession of cocaine, grand theft, fleeing to elude police at high speed, aggravated battery on a pregnant woman and battery as a second or subsequent offense.
There have been 3,718 arrests for robbery in Florida this year and 5,676 last year, according to the Florida Department of Law Enforcement (FDLE.) That figure was down from 6,411 in 2020.
Analyzing the crime rate, a report from the FDLE, released last year, said that crime was down across the state for the 50th straight year. According to its 2020 Annual Uniform Crime Report, "Florida's total crime volume dropped 14.1 percent, or 76,523 fewer reported index crimes, compared to 2019.
"Overall, property crimes dropped by 17 percent in this report, or 1,850 crimes. Meanwhile, violent crime edged up by 2.3 percent, or 1,850 crimes," it said.
"The index crimes of rape, robbery, burglary, larceny and motor vehicle theft crimes were down, while murder and aggravated assault increased. Domestic violence murder was down in 2020, while stalking increased."
Newsweek reached out to the Tampa Police Department for comment.