Florida Man Jailed for Allegedly Threatening to Kill Pro-Trump Republicans Including DeSantis
A Florida man has been arrested and jailed for allegedly threatening to kill supporters of President Donald Trump, including several prominent Republican officials from the state.
Police arrested registered Democrat Richard Szala on Wednesday morning, hours after Trump's Florida victory was confirmed, according to WTVT. Szala reportedly claimed he was making empty threats in online videos that included menacing remarks about killing GOP politicians including Florida Governor Ron DeSantis, Sen. Marco Rubio, Sen. Rick Scott and Rep. Matt Gaetz.
"We got a credible tip from an information intelligence gather source about him posting threatening comments on YouTube," Clearwater Lt. Michael Walek told the outlet. "His comments were directed to the Republican party, specific people in the Republican party... He was threatening to shoot them."
"He admitted to making the statements out of anger and just shouldn't have said it, didn't mean it, but he still said it," added Walek. "If you make a threat and were able to establish probable cause you're going to go to jail."
Authorities reportedly visited Szala's Clearwater home and took possession of his gun, phone and computer as part of their investigation, which was said to also involve the participation of multiple federal agencies.
"We had other agencies involved it was FLE, the FBI and also the Secret Service were out there participating based upon the threats that were made," Walek said.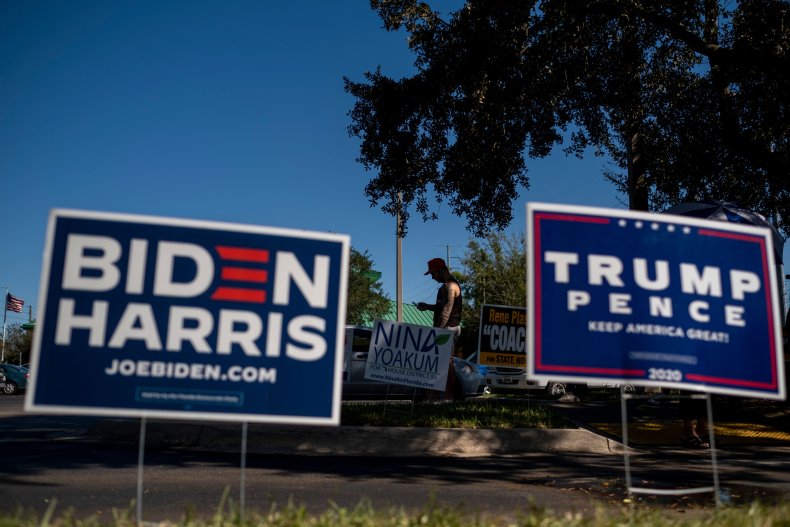 In addition to DeSantis and other officials, Szala also allegedly threatened to kill his pro-Trump neighbors and other unspecified supporters of the president.
"We were going to plant signs and what have you, but I thought, you know what, in this environment, maybe not a good idea...and now, oh my God," Szala's neighbor John Clayton, a Trump supporter, told WFLA. "No clue. Cause you have no idea who your neighbors are."
Prominent Trump-supporting GOP politicians outside of Florida were also allegedly targeted in the videos, including Senate Majority Leader Mitch McConnell of Kentucky and Sen. Lindsey Graham of South Carolina. Decades earlier, Szala was charged for alleged harassment over the phone in Illinois.
Newsweek reached out to the office of DeSantis for comment.
Trump won Florida on Tuesday by what could end up being a significantly wider margin than his 2016 victory over former Secretary of State Hillary Clinton, leading by 3.4 percent with 96 percent of the vote by early Thursday morning before the final count was completed.
However, Democratic presidential nominee Joe Biden appeared to be holding a tiny 0.2 percent edge over Trump in Szala's home county of Pinellas, which Clinton lost by 1.4 percent.