Florida Man Accused of Strangling Girlfriend's Pug Named 'Nala', Which Was Left Lethargic With a Bloodied Rectum
A Florida man was arrested on Tuesday night, accused of suffocating and punching his girlfriend's pet dog after losing his temper, police said.
Jason Michael Fletcher, 22, was detained at Ponytail Palm Circle in the city of Oviedo by deputies from Seminole County Sheriff's Office at roughly 9:55 p.m. Police said in an arrest report, obtained by court filings, they had been called to investigate alleged animal cruelty.
Dispatchers told the deputies Fletcher had "intentionally suffocated" a dog a few hours prior. Fletcher was placed in handcuffs as the officers spoke to his girlfriend, who said she had noticed her pug had been "acting strange." She said the dog, named "Nala," was crying and "very lethargic."
Seminole County police noted in the arrest report that the pug appeared to be having trouble breathing and its rectum was left bloody and swollen as a result of the suspect attack.
The girlfriend—who Fox23 described as his "soon-to-be ex"—said Fletcher told her he lost his temper and attacked the pug. She advised police that he has a history of hurting animals when he gets upset and alleged that he had even killed an ex-girlfriend's pet.
Police said the suspect admitted to investigators during questioning that he had smothered the dog with a pillow and punched it multiple times. He said the injury to its rectum was "due to the smothering" and likely linked to the "pressure he placed onto it," the arrest report said.
Fletcher was detained for aggravated animal cruelty. Police said probable cause existed due to him causing "excessive or repeated infliction of unnecessary pain or suffering." In the arrest report, the weapon linked to the attack on Nala was listed as "hands, feet, fist, teeth."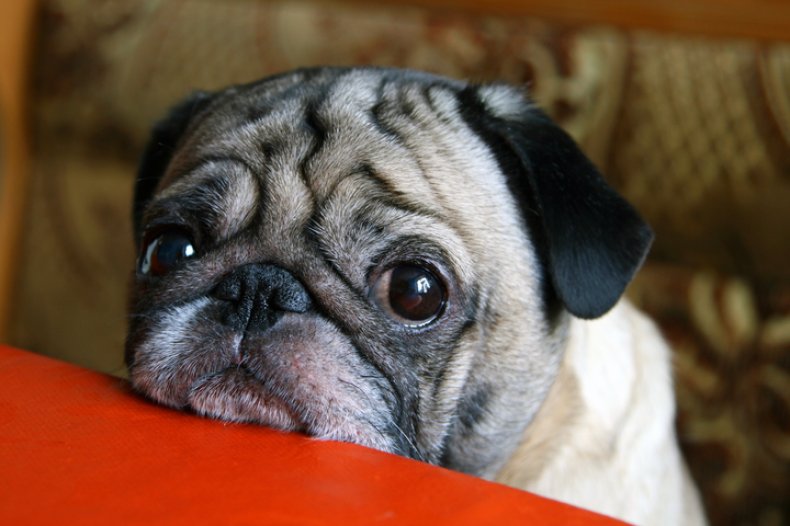 The suspect was transported to John E. Polk Correctional Facility without incident. The staff was made aware of his mental condition and potential to be violent towards himself and others, it was noted.
Bob Kealing, a sheriff's office spokesperson, told local media outlet WFTV: "Due to this suspect's inability to control his temper, he inflicted significant pain and injury on a defenseless animal. As a result, he is facing serious felony charges."
Nala survived the attack despite the shocking injuries, Kealing confirmed. "This was a close call and we are glad that this defenseless small little dog didn't lose its life," he said.
"Given the fact he allegedly tried to smother this dog... and from the description it sounds like this animal was in a significant amount of pain, that is a crime," Kealing added. "And people who do that are going to end up where this individual is: in jail. We take this type of crime very seriously... we are very relieved that in this case this small defenseless animal was not killed."
Court papers said the suspect's arraignment is scheduled for September 3 at 1:30 p.m. in front of judge Marlene M. Alva.
His bond for the animal cruelty allegations was listed at $10,000, under the firm conditions that he has no unsupervised contact with any animal and stays away from both his partner and the address of the alleged criminal offenses. The attorney named in the filings did not immediately respond to a request for comment.