Video: Mystery Barefoot Florida Man Slams Onto Car Roof After Falling From Dealership Roof
A car dealership in Florida has been left bewildered by footage from one of their surveillance videos which shows a man falling onto the roof of one of their vehicles before calmly walking away. Modern Corp Auto Sales in Fort Myers posted the bizarre clip showing an unidentified male falling from the sky onto the top of a car on the morning of July 7.
After plummeting onto the vehicle, the man dressed in a red T-shirt and black shorts, but not wearing any shoes, casually walks away seemingly uninjured. The car dealership posted the video to Facebook in a bid to find whoever is responsible for the stunt.
"We arrived at work this morning and saw this on the security cams," Modern Corp Auto Sales said in a caption. "I hope they find this kid and he's alright. You just can't fix stupid."
While answering questions from bemused social media users in the comments below the video, the dealership said they have "absolutely no idea" what prompted the man to jump on top of the car.
"Not sure if he was hiding up there after doing something he should not have done, or if he was running away from people, or if he was just high. Either way, the roof is not the place to be."
Speaking to the Miami Herald, owner John DiLeonardo said he believes the man climbed up a ladder he found outside the property, then climbed over a fence to get up on the roof.
"We're just as perplexed as anybody as to why someone thought it would be a good idea to swan dive onto a car," DiLeonardo said. "Was it drugs? Or just, 'Hey, let me see if I can do this' type thing?"
Speaking to Wink News, DiLeonardo said: "If I could give advice to anybody, if you have any ladders laying around your business or your home, make sure they are secured properly. Because you never know when somebody is going to get on your roof and then jump off."
"It's definitely heightened our awareness," DiLeonardo told the Miami Herald. "But we're hoping this was a freak thing."
The Fort Myers Police Department have been made aware of the incident. Giving an update on Facebook, Modern Corp Auto Sales wrote. "Haven't heard anything from FMPD. If you know who this is, please let us know."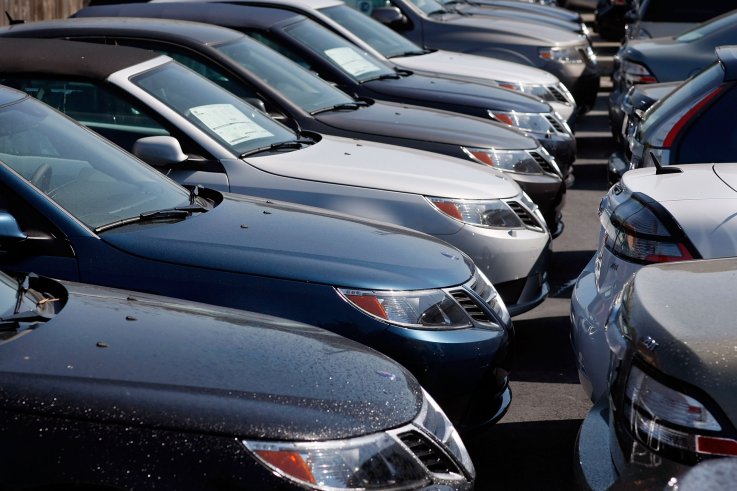 Video: Mystery Barefoot Florida Man Slams Onto Car Roof After Falling From Dealership Roof | U.S.