A Florida man has admitted to killing his mother and dog before setting the home they shared on fire, claiming YouTube videos made him paranoid.
Colby Glen Larue walked to the Marion County Sheriff's District Office in the county of Ocala, to the north of the state, on Wednesday, ABC-affiliate WFTV 9 reported citing police. He told an officer there he had killed his mother.
An affidavit seen by WFTV 9 stated the 22-year-old told police he had been watching videos on YouTube at their lakeside home on Tuesday evening, when he started to feel paranoid people were coming to rape or harm his mother, Angela Limbaugh.
Larue took a pump shotgun, but when he discovered it wasn't working, he grabbed a 9mm semi-automatic weapon and started pacing around the ground floor of the property, OcalaNews.com reported. He was "presumably looking for the individuals who were coming to harm the victim," an official report seen by the outlet stated.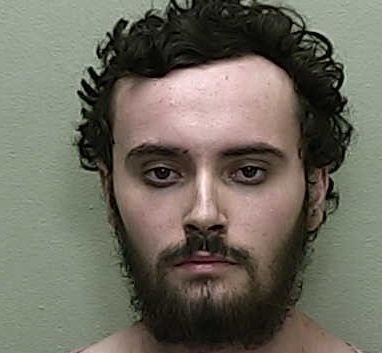 22-year-old Colby Glen Larue, who he said killed his mother and his dog.
Marion County Sheriff's Office
Limbaugh woke up and went downstairs. Larue said he shot his mother twice in the head, and turned the gun on his dog, according to WFTV 9.
"Larue advised he killed his mother because he was protecting her from individuals who were supposedly coming to harm her," the report seen by OcalaNews.com said.
Next, he used a lighter to set his mattress on fire. A bonfire was happening at a home across the lake, so Larue used a boat in his garden to row across the water.
When the people asked him to leave, he fled topless into a wooded area and walked to a Winn-Dixie grocery store. There, Larue encountered a homeless man who was wearing an eye patch, and asked to use his shirt. He then headed to the sheriff's office.
Personnel from Marion County Fire Rescue were called to the home at 16663 SE 53rd St. in Ocklawaha, Marion County, at around 3:20 am, Marion County Sheriff's Office said in a statement. The building was engulfed in flames.
Firefighters found part of the property had collapsed, and discovered a stash of ammunition "cooking off" in the home. After tackling the blaze, firefighters found the remains of a person inside the residence, Ocala News.com reported.
Police arrested Larue and took him to Marion County Jail. The 22-year-old was charged with homicide and first degree arson of a dwelling with people present. He was not given a bond. It is unclear when he will next appear in court.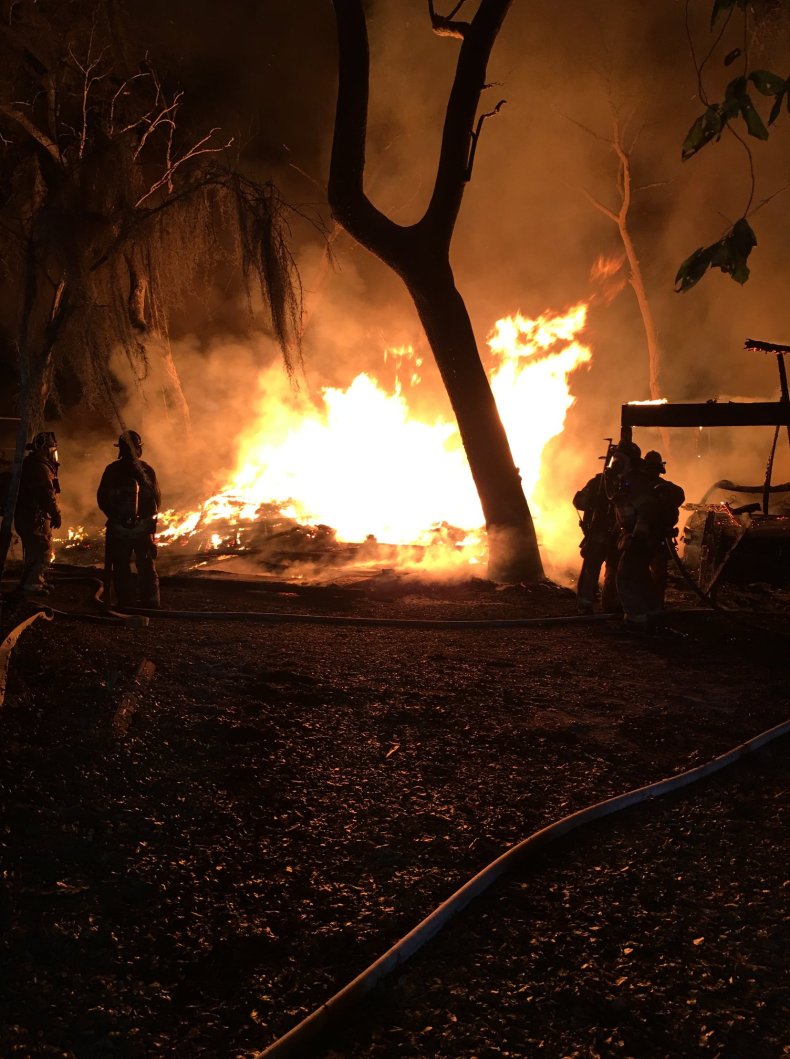 Brittany Grant told WFTV 9 she saw Larue walking towards her home that night like Michael Myers, the fictional character in the horror film Halloween.
"He just slowly starts walking up, and it was like Michael Myers. We didn't even see him nor knew that he was even here until he got to the truck," she said.
Her boyfriend Corey Ball responded by taking a golf club and running at Larue, demanding to know why he was near their home.
Grant said Larue told them: "I'm Colby! I'm Colby! He came up, and he was, like, 'I'm just trying to figure out my life, man.'"
An investigation by police and firefighters continues.