Florida Man Loses Card Game, Allegedly Sets Winner's Car on Fire, Mom Turns Him into Police, Charged With Murder
A Florida man has been charged with murder after he allegedly grew so angry after losing thousands of dollars in a card game that he retaliated by setting a car on fire with the winner inside, according to authorities.
Michael Psilakis Jr., 21, was charged with first-degree murder after being connected to a body found burned inside a car. He reportedly lost thousands of dollars to the deceased man, who was an acquaintance of his, in a card game, according to Bay News 9. The name of the victim will not be released under a state constitutional amendment that safeguards the identities of victims.
Psilakis Jr. allegedly texted threatening messages about victim to death to an unnamed witness in October. The witness subsequently reported the information to authorities, reported Complex.
According to the witness, who played cards with both the victim and Psilakis, the accused lost $1,000 to the victim in a card game. He then convinced the victim to play another game with him the following day. During the course of that game he lost an additional $2,500 to the same man.
"I got something for you," he allegedly said to the victim, according to the witness. He proceeded to send text messages to the witness asking if he should kill the man in question. Later, the accused texted the witness while he was spending time with the victim and said he was still "thinking about" shooting him.
The victim, who was burned beyond recognition, was reported missing on October 30 by his mother, who told authorities she hadn't seen him in days. He had been driving a Hertz rental car that was reported as stolen. The victim's body was later found in the ruins of the car on November 1.
The deputy, who first encountered Psilakis, saw burn marks on his legs during an interview at his mother's house. Psilakis reportedly told the officer that his girlfriend had thrown hot oil on him during a fight.
Psilakis' mother later contacted authorities to report that she had found blood scattered in multiple locations throughout the house. When Psilakis called home, she gave authorities permission to record the call. During that call he changed his story. When she asked him about the burns, he claimed he had set himself on fire while putting gas in his car. He then asked his mother to corroborate his story.
Shortly after, Psilakis was arrested at his mother's house, which he arrived at in a stolen vehicle, according to Bay News 9. Upon his arrival, he racked up additional charges, including resisting arrest, grand theft of a motor vehicle and premeditated homicide.
A stolen handgun was also found in his vehicle. A forensic analysis later proved that the bullets in the firearm matched ones found in the front seat of the burned car.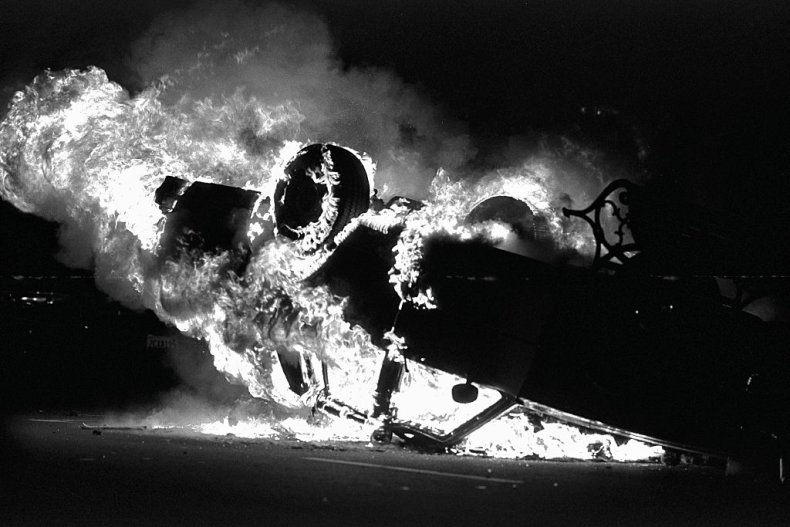 A search of Psilakis' phone by police revealed additional incriminating evidence. His internet browser showed recent search terms such as "can u shoot through a seat", "can a bullet go through seat", "someone shot through car seat", and "how to treat burns."
Another unnamed witness reported finding a bracelet loaned to the victim in a saw that Psilakis owned.
"I think it's best for the people who have been hurt and have lost a loved one and for my family, being hurt because we lost a loved one, that everything just kind of goes through the courses at this point," Psilakis' mother, Coredia Psilakis, told Bay News 9.
Psilakis is currently being held without bond.