Video: Elderly Florida Man With 'Road Rage' Fires Multiple Bullets at Driver
An elderly Florida man was arrested this week after allegedly following a driver towards his home and shooting at him in a bout of road rage, police said.
Christino Aquino, 85, was detained on Wednesday evening after allegedly tailing a motorist in Marion Oaks, according to a Marion County Sheriff's Office (MCSO) release. The suspect was captured on the victim's dash cam footage, which was later released to social media.
Read more: Florida man charged after "eating" police patrol car seat
The driver told deputies that he had noticed a "suspicious vehicle" that was flashing its lights in his rear mirror while he was driving home from work at approximately 6:30 p.m., cops said.
The antagonist followed the victim back to his neighborhood in a white Mazda 4-door SUV with a female passenger. The victim phoned 911 as he was "afraid to go home," police said.
"I have a vehicle following me and just blocking my way." the man complained, adding: "When I went to the grass to pass him, he had something in his hand and it almost looks like a pistol wrapped around with a white rag or a plastic bag and he tells me 'Get back. Get back."
Bullets allegedly started flying after the targeted driver was able to record the suspect's tag number. "The victim was unharmed but his car was struck by several bullets," cops noted.
"He's shooting at me," the panicked victim remarked in the dashcam footage. "He just shot. He just shot. That bag is a gun. You with me dispatch?" he added, as multiple dings are heard.
In a statement, the Florida law enforcement department said: "Deputy Guerra and Deputy Tim Marton responded to Aquino's home and took him into custody. Deputies noticed that Aquino matched the suspect's description and was in possession of the suspect's vehicle.
"Aquino declined to make a statement about the incident, but the female passenger told deputies that Aquino followed the victim's vehicle to 'see what he wanted.' She also stated that she saw Aquino holding the gun but did not know if he fired it or not," the release added.
One deputy said the dash cam footage had confirmed the victim's description of events. The motive for the incident remained unclear but was dubbed an "apparent road rage incident."
"The victim told deputies that he did not know Aquino and did not know why he would follow him home and shoot at him," the MCSO said Thursday after the suspect was arrested.
The 85-year-old Florida man was charged with one count of aggravated assault with a deadly weapon. He was transported to the Marion County Jail on $2,000 bond, the MCSO added.
Earlier this week, a Florida man accused of making sexual advances towards children was charged with two counts of lewd and lascivious conduct. Arthur Leo Proulx, 51, told detectives that he could not recall propositioning anyone because he "normally drinks 18-20 beers before interacting with the children."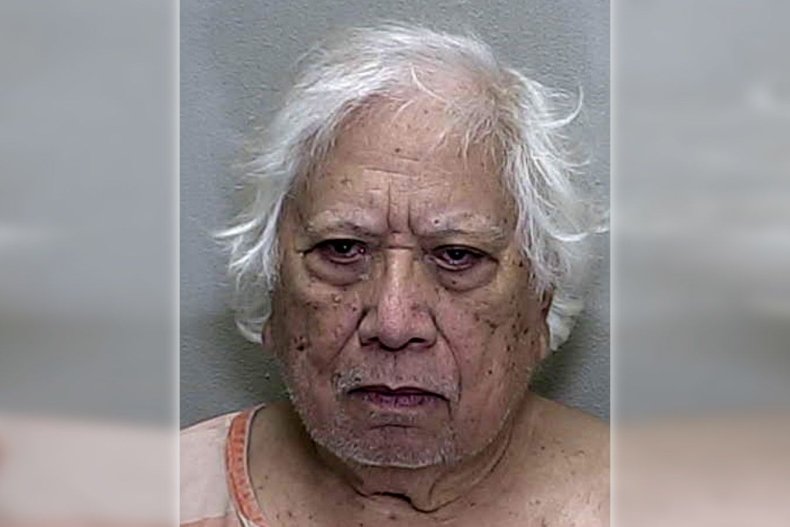 Video: Elderly Florida Man With 'Road Rage' Fires Multiple Bullets at Driver | U.S.